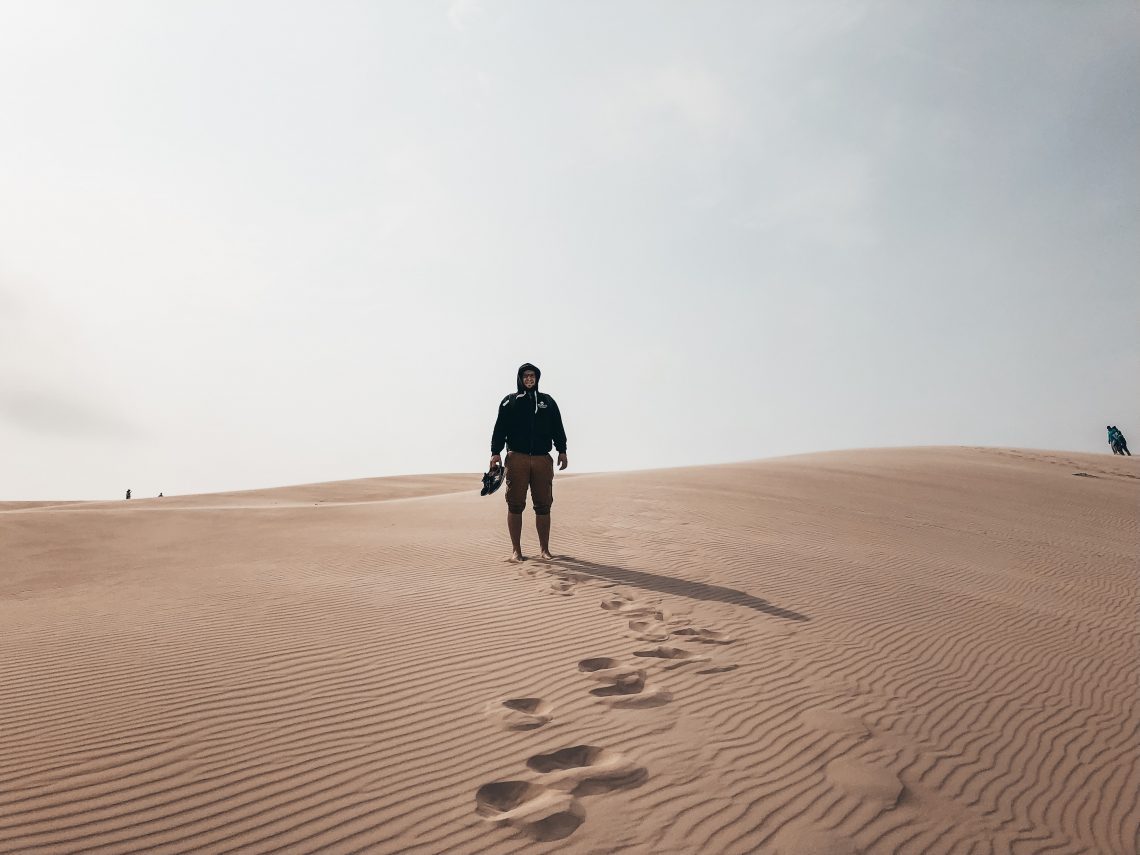 Tip for weekend trip: Moving sand dunes in Poland
Sometimes in primary school I learned that they have a desert in Poland. I wasn't really interested in it, but somehow it miraculously kept this information in my mind, and a few years later, when we moved to Krakow, we began to think about how to get to the desert and whether it really exists.
In the article you will find where to find the Polish Sahara and why not underestimate the clothes when you visit it there.
Where is the Polish desert?
Because of the desert you do not have to travel thousands of kilometers to Africa at all, you only need a hundred, because at our neighbors in the north in the Pomeranian Voivodeship, where the Baltic Sea inhabits the country you will find a truly natural unique moving sand dunes. This remarkable area is located in Slowinski National Park, which is only a two-hour drive from Gdańsk.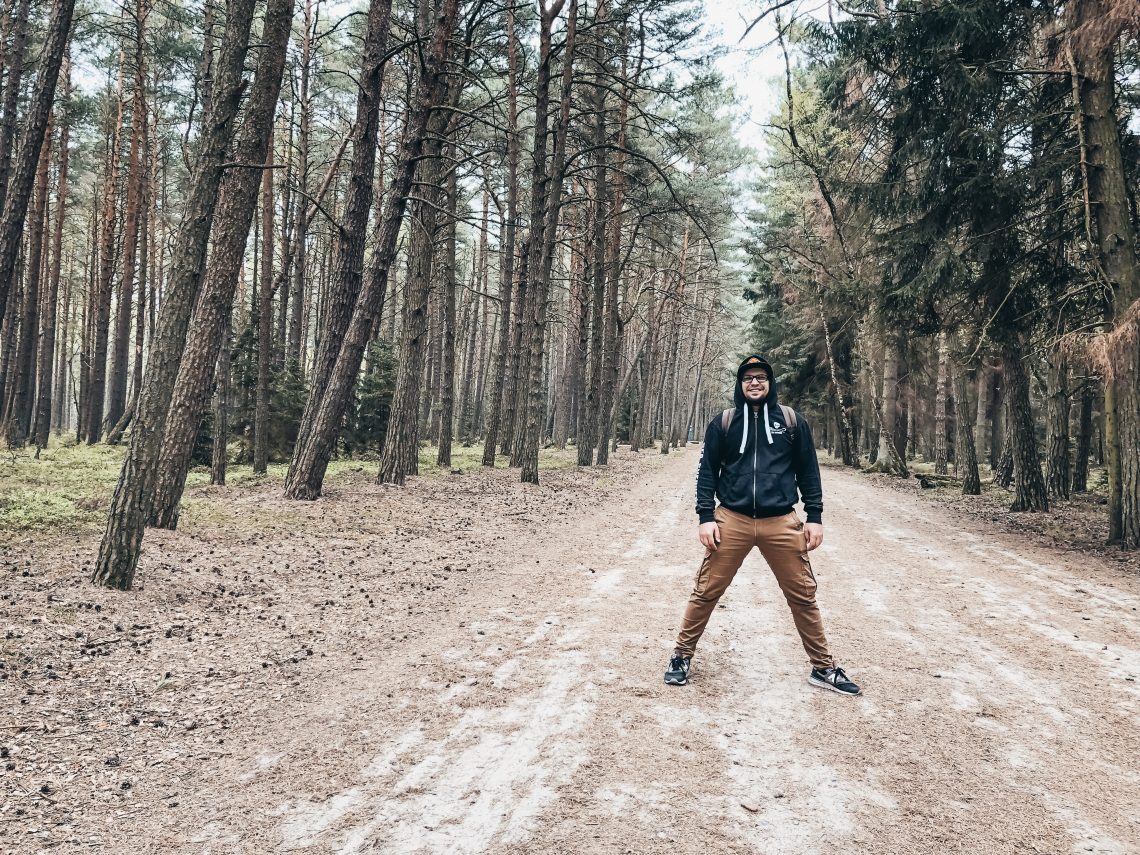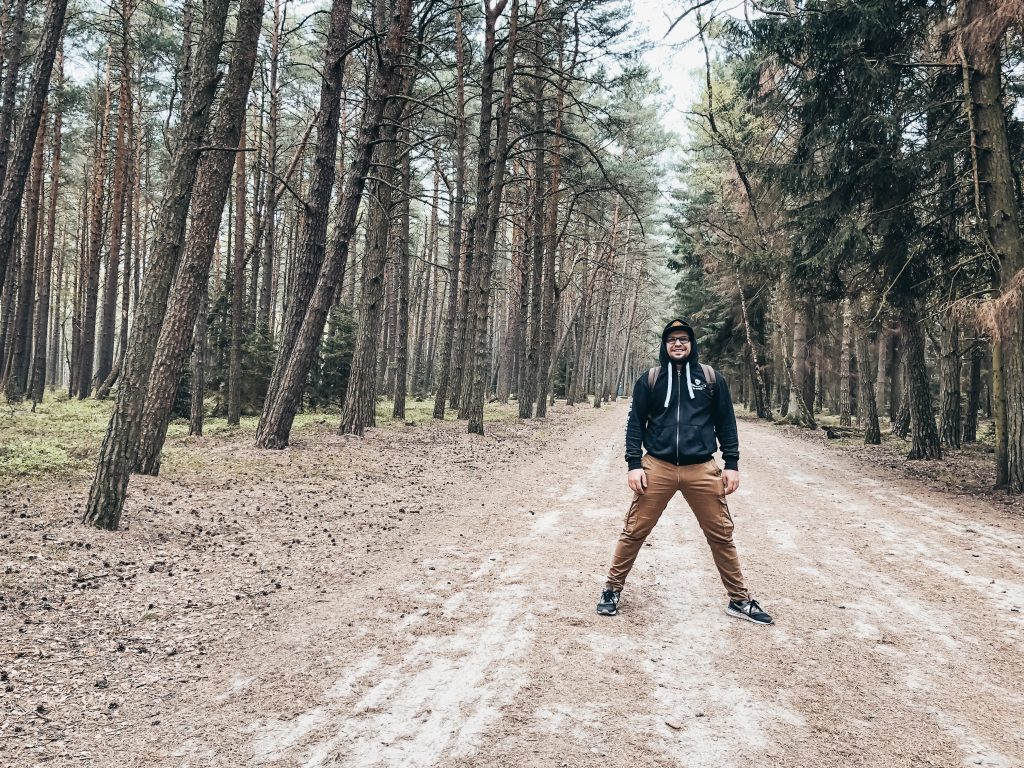 Slowinský national park
The National Park was founded in 1967 and twelve strictly protected nature reserves have been created in the park, as there are about 260 species of birds, rare butterflies and beetles. Interestingly, you can see here lots of elk, seals or occasionally dolphins. The park has a very confusing name, thanks to which you would probably think it is  in Slovenia. But it got its name from Slavic people who were called Slovenes in past.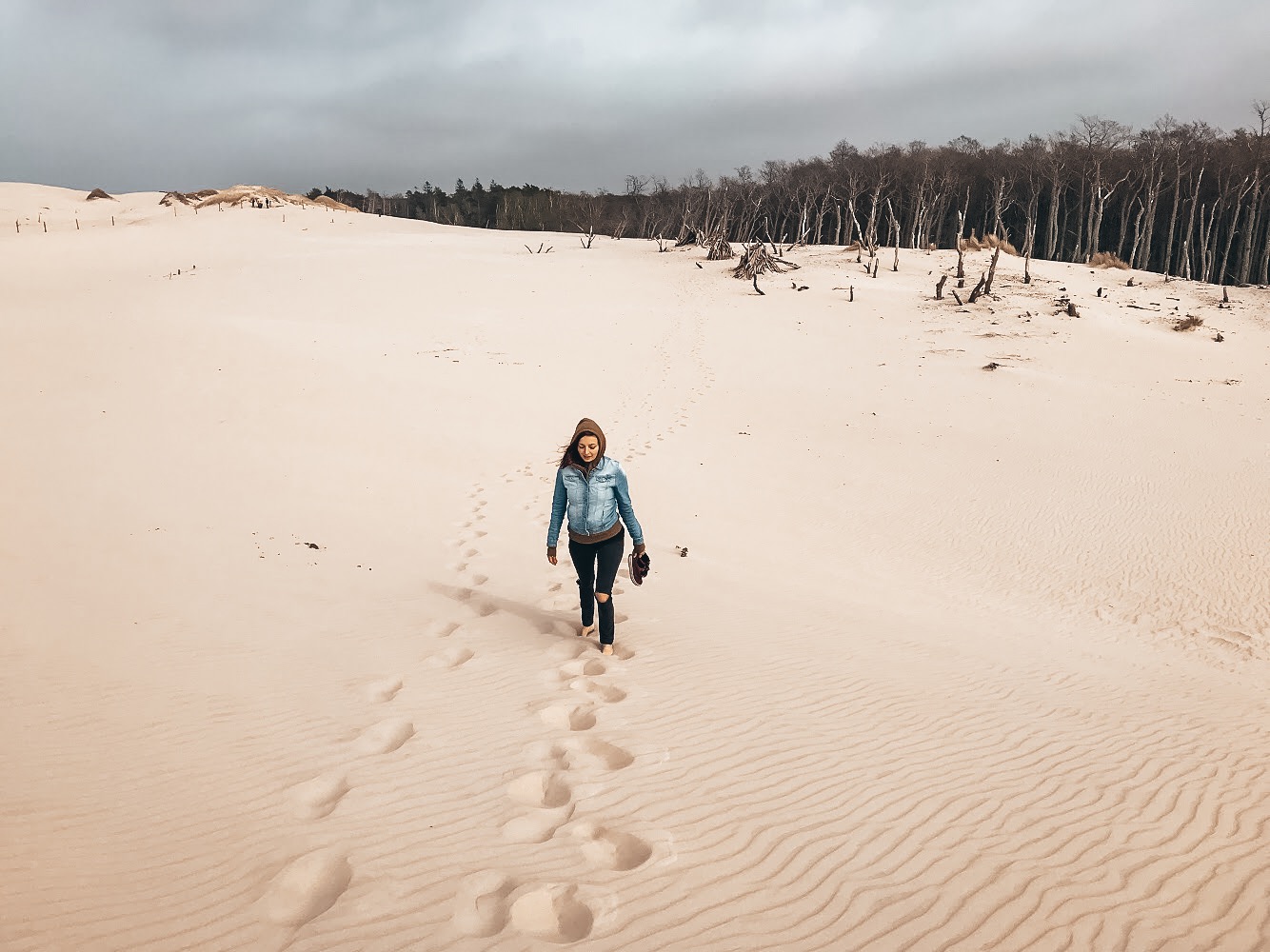 The park is located along the Łebski Lake, the third largest lake in Poland. You will find swamps, meadows, forests and moving sand dunes, moving east towards Leba at a speed of 3-10 m per year. Dunes are among the largest in Europe and the highest moving dune, Wydmy lack, is the main attraction of the park, because you can "climb" it and observe the surroundings. Wydmy lack is 40 meters above sea level and scraping up a sand hill was not easy at all.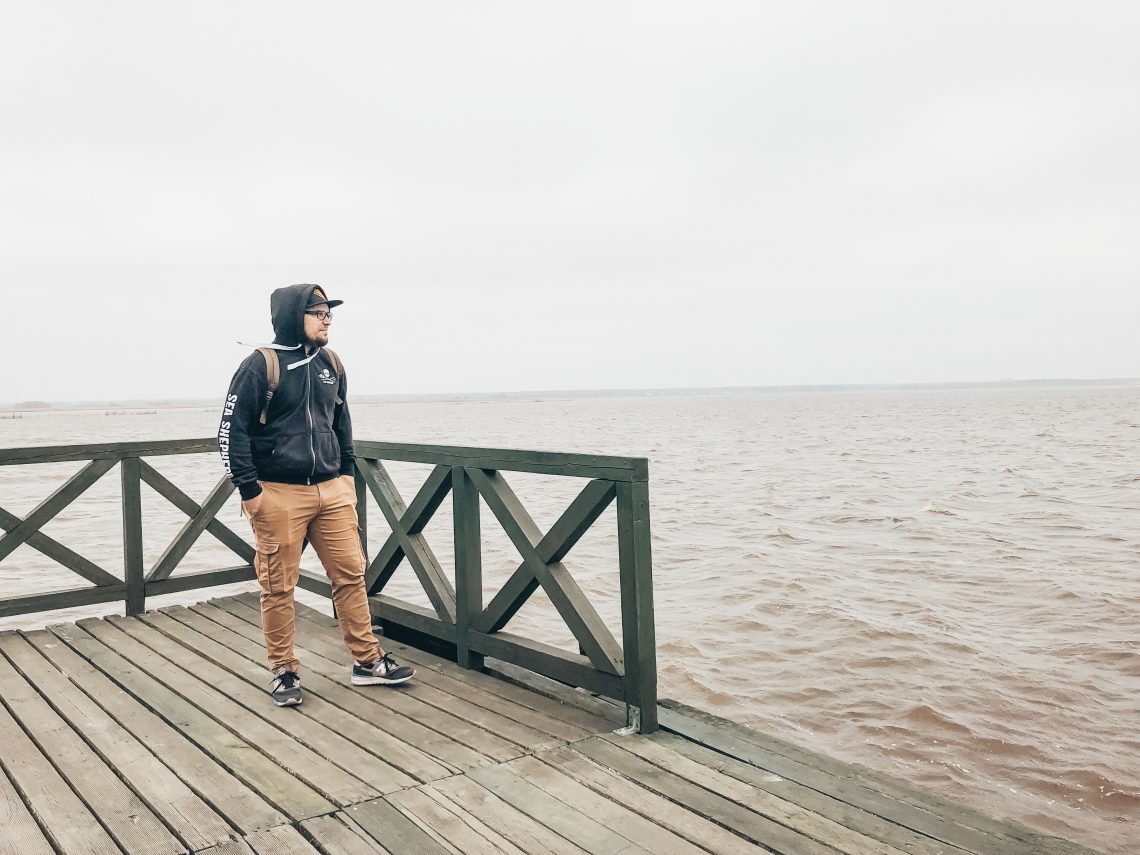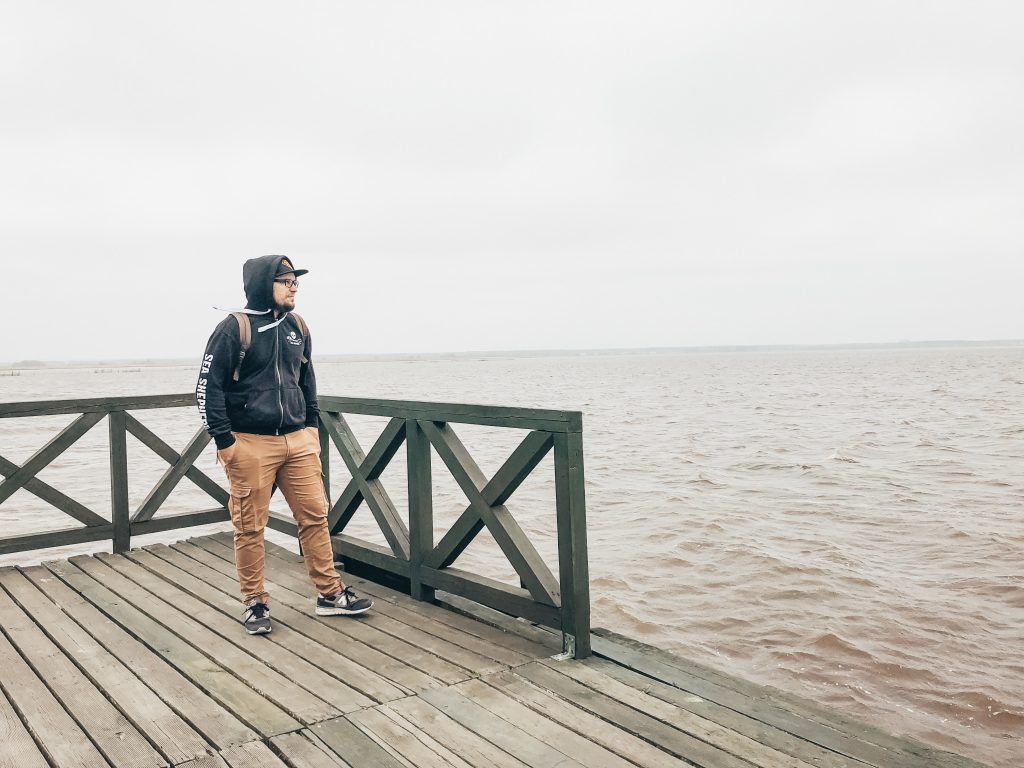 Slovenian National Park is divided into several smaller parts. Wydma Czołpińską is the longest stretch of moving dune belt. In the park you will find several hiking trails and cycling is also very popular. For example, the blue tourist sign will lead you to the lighthouse in Czołpinie, which stands on the highest wooded dune Człpinka (55-56 m above sea level) and to the former missile base. At the base, the Germans tested missile weapons during World War II.
The dunes literally buried a few villages and are still moving south. More and more inflated sand is rising from the sea and the dunes rise. In order to slow the shift of these dunes, pine trees are planted in the park .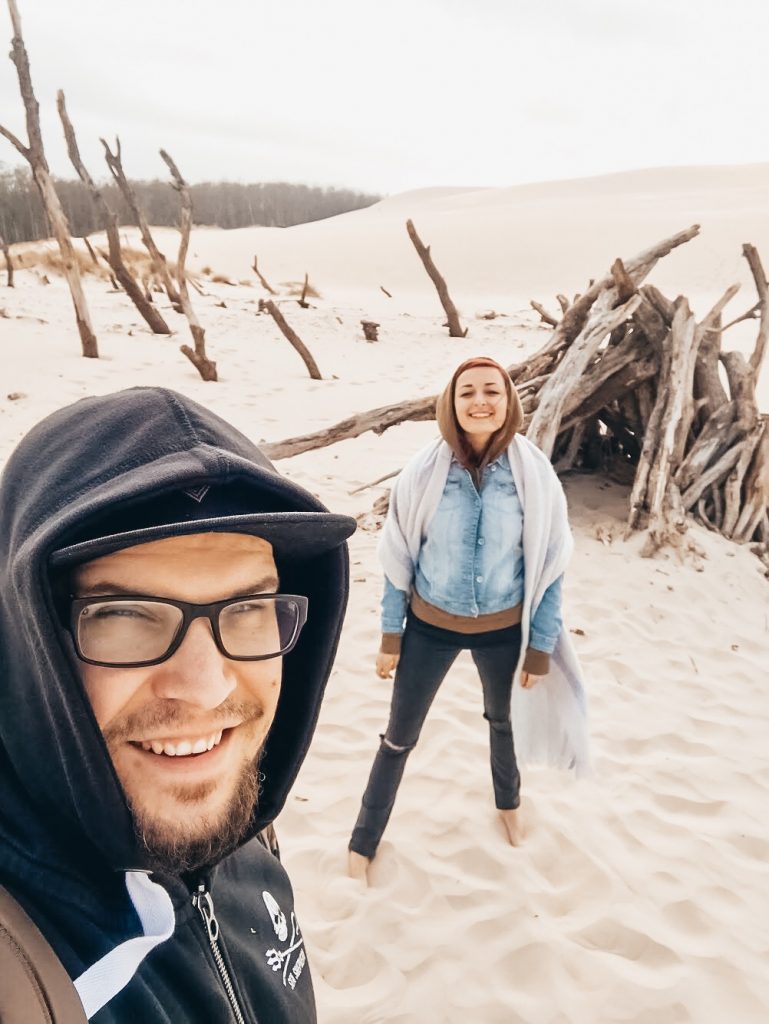 The park is open from 1 May to 30 September, at which time entrance fees are collected. All-day admission costs 6,00 PLN, discounted 3,00 PLN – multi-day tickets are cheaper.
When walking on the dunes you don't feel like in Poland. Even in Europe.
We went to the park at the end of April 2019, when the entrance fee was not collected, but several of the places that could be visited there were closed (eg. Museum, restaurant, lookout).
Why dress something warm?
What really surprised us was the weather. The park is only a few kilometers from Gdańsk, where it was warm and sunny, but when we got to Slowinski National Park, it was very cold, windy and humid because of its location. The cold wind blew both from the Baltic Sea and from the lake, and we underestimated our clothing.Therefore, if you go to the dunes, take your clothes on every occasion and certainly something that will protect you from the strong cold wind.
---
Articles you may also like:
---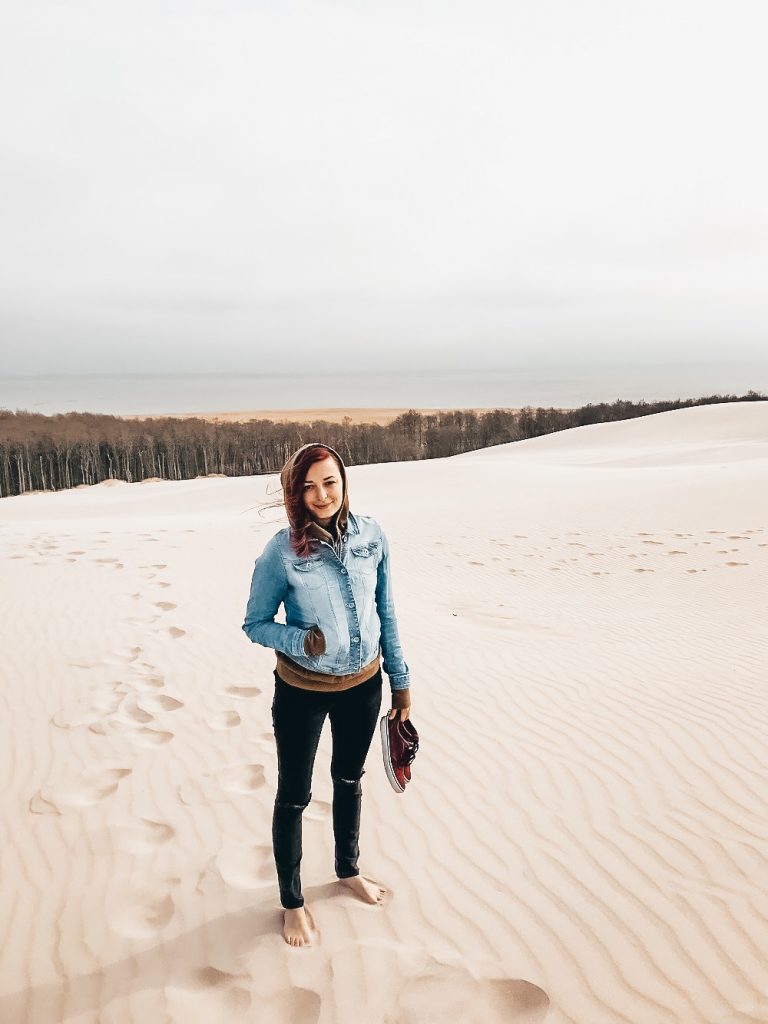 Walk on the dunes
Walking on moving dunes was an incredible experience. Stepping on the sand hills from where there was a view of the wide surroundings, legs bogging in the cold sand, and a strong wind that blew sand all around, creating a very strong atmosphere. I didn't feel like Poland at all, it was very strange. The dunes drag into the distance and you feel that if you stop paying attention, you can easily get lost. The sand hills smoothly recede towards the sea, where they overgrow high, wind-blown grass and end with a pebble-sand beach.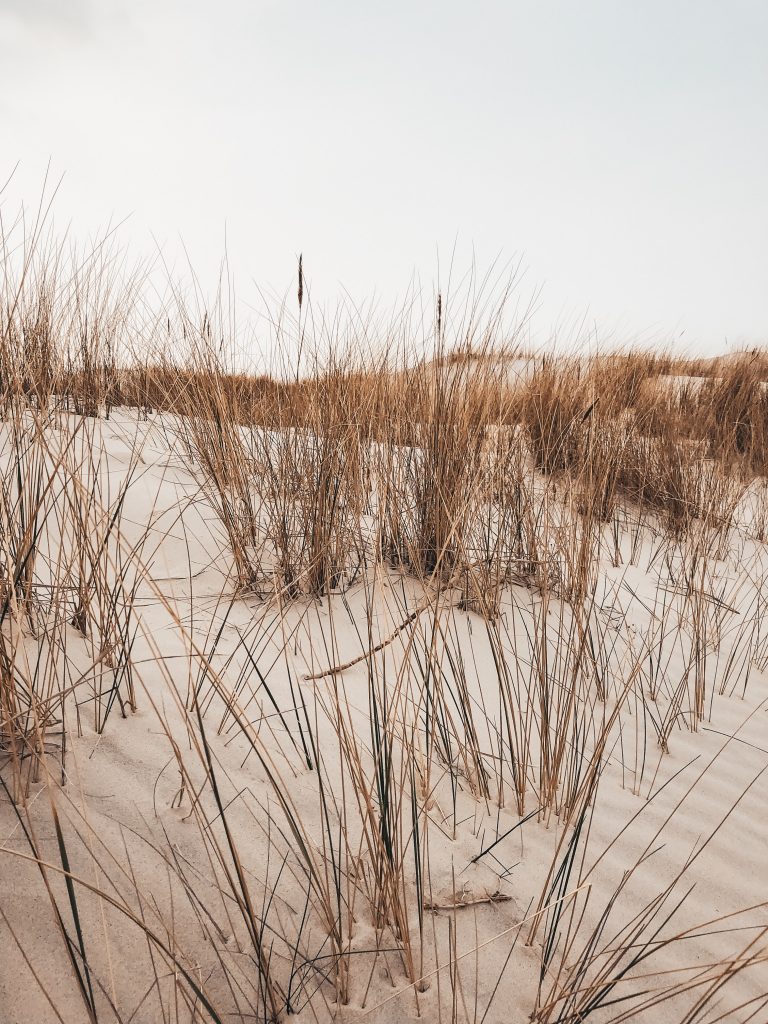 You can easily reach the dunes from Leba. In addition to the route to the largest sand dune, you can choose from a number of other routes that lead through the park. The sand dunes lead through a forest, which you can walk, by bike (yours or you can rent a bike before entering the park), or on an electric car that drives people back and forth for 20 PLN.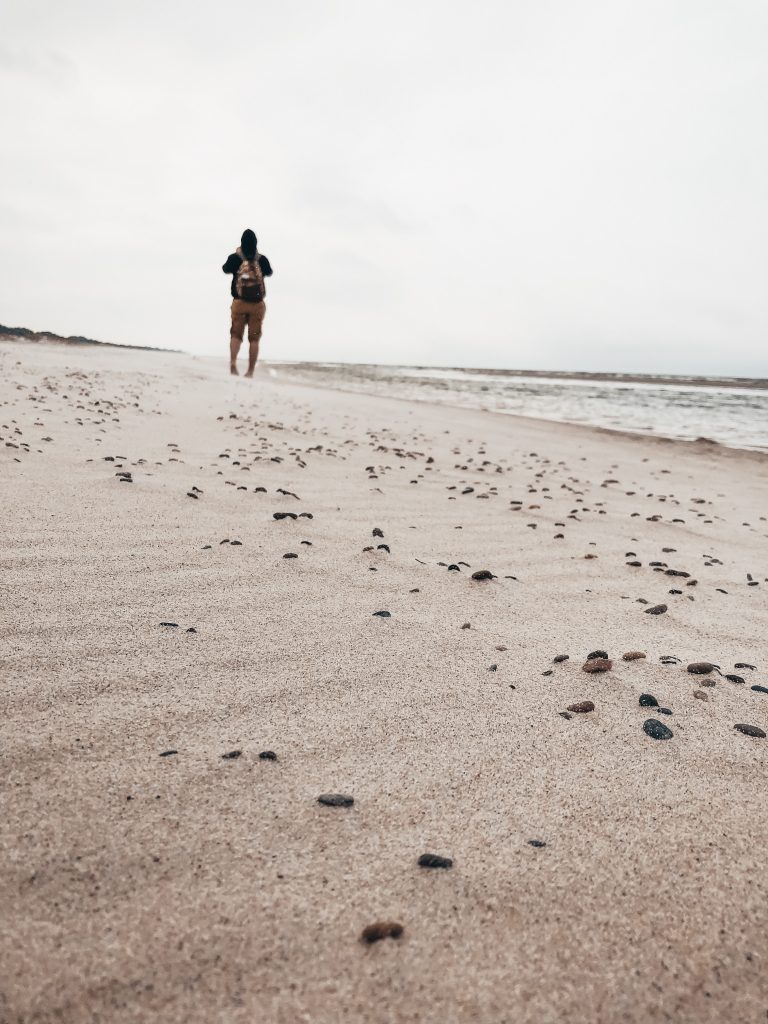 Where to stay
If you are going to travel by car it is great to see in addition to moving dunes also one, in my opinion, of the most romantic places in Poland – Gdańsk. There are many hotels, hostels and rooms you can use and you can reach the sand dunes in two hours.
The town of Leba is very popular with tourists thanks to Slowinski National Park, so it is not at all difficult to find accommodation here. You can still use our 10% discount on accommodation through Booking and enjoy a longer weekend.
To Africa to the nearest desert is quite far and moving dunes are right next to our neighbors, so pack your backpack and go check it out. It's really worth it. 🙂
Tina
If you like this article I will really appreciate if you can share in on Pinterest. 🙂