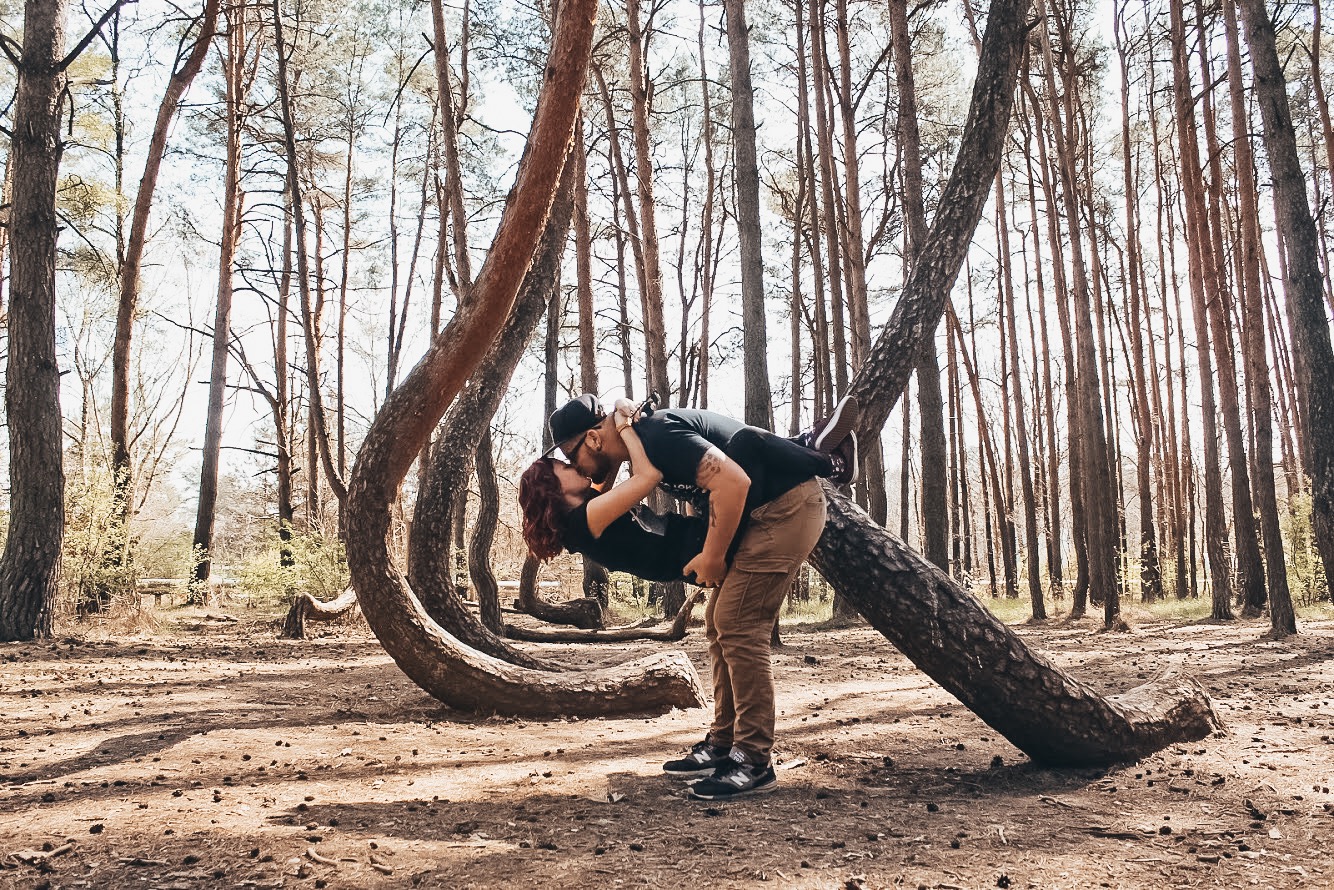 Crooked forest in Poland. It this forest really so magical?
When we decided to move to Poland, we created a bucket list of places we want to see and visit. One of these places was the mysterious Crooked Forest, which is in the top 10 of every blog about Poland. Is it really as magical as everyone claims?
You can find Krzywy las (Crooked Forest ) near the town of Grzfino, in Nowe Czarnowo near the Polish and German border. A mysterious forest full of oddly-shaped pine trees  in shape of letter J. This forest was formed around 1930 and should grow around 400 pines here.  Trees have been bent sometimes at the age of 7-10. The most mysterious about this forest is still how and  why these trees were bent.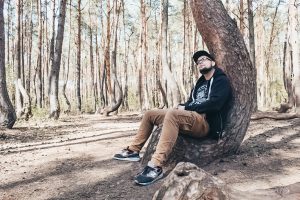 Why is this forest crooked?
The most interesting are the theories, the explanations that people have come to explain the mystery of bent pines. And this, of course, except for bent pine trees, puts it in the bucket lists of most people.
#1 theory: The trees were shaped by the German army, which invaded Poland in 1939 and bent the trees so strongly that they began to grow in strange angle. The unresolved question of this theory is,  why the trees are bent only in one one part of the forest.
#2 theory: Trees were distorted by the ufo that landed in this part of the forest.
Each one of us can believe what he/she wants, but I still imagine this forest full of goblins running between the crooked pine trees with axes on their shoulders, giggling in the bushes on us, the people, like  we scratch our heads to find out to this mystery.
#3 theory: This option is probably the most logical and that pine trees were bent by local foresters to make barrels, sleds and ships easier. The forest is so strangely bent in only one part, just because of the war, when people have had other worries than bending the pine.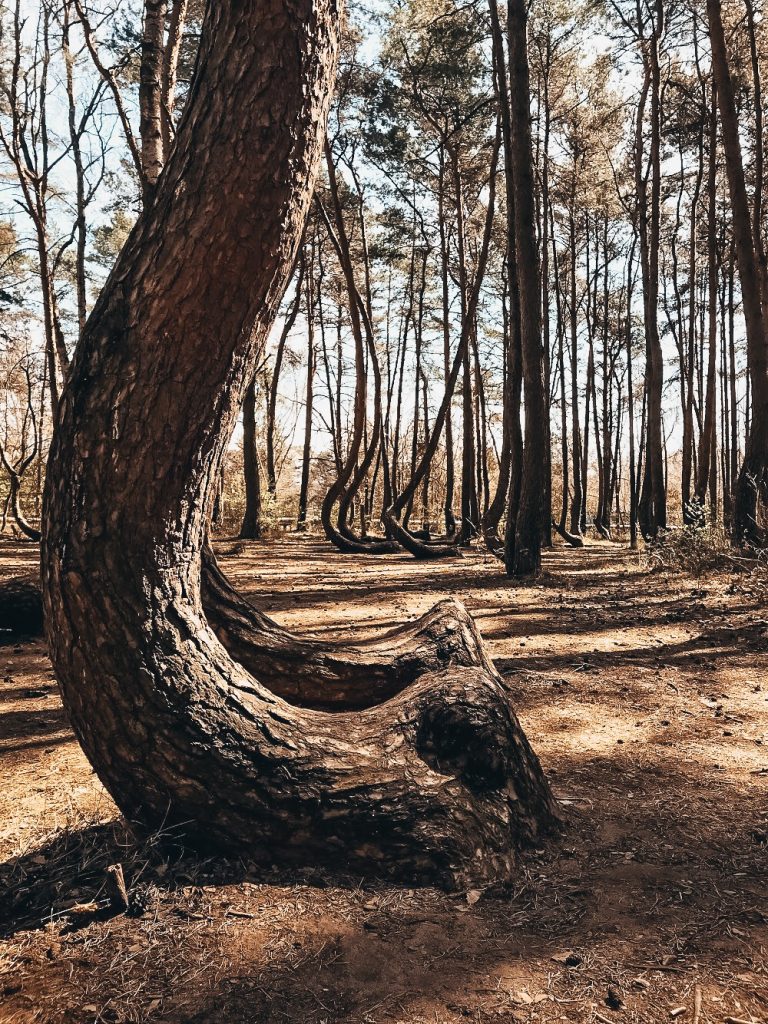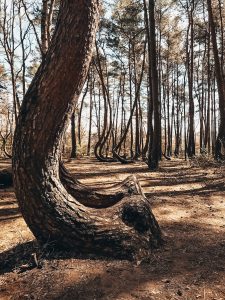 How I can come there?
The forest is about 2 hours by car from Poznan, one of the wonderful Polish cities. From Krakow it is about 8 hours by car, so it is closer to getting here from Berlin (about 2 hours). You will not find any sign and info about the forest during the trip, but the navigation route is not difficult at all. The path to the forest is nicely marked and you will certainly not be lost, because the forest in which the allegedly 400 pine trees are located is right behind the apartment buildings. From the main road to the forest it is approx. 10 minute walk.
Are all blogs about the Blood Forest deceiving?
We are always authentic from the beginning of this blog. We really experienced things and places we write about, here are our shitty and great moments, but also tips that can help you. And so now we do not want to mislead. We decided to go to the Crooked Forest and we definitely don't regret it, but honestly, we were a little disappointed.
Although you will go further from the main road, walk through the woods, but you can still see the houses directly from Crooked forest, you can sit there on the bench and from those 400 trees only approx. 100 trees are still there. And we haven't read about this in any blog. According to the map, we thought we were going to a forest full of strange shaped trees. Everyone talks about a big mysterious forest, but there are very few trees there. Maybe that's why the forest is monitored by security cameras.
What I liked this forest was really clean, because sometimes when we try travel responsibly it is hard to look on garbage in nature.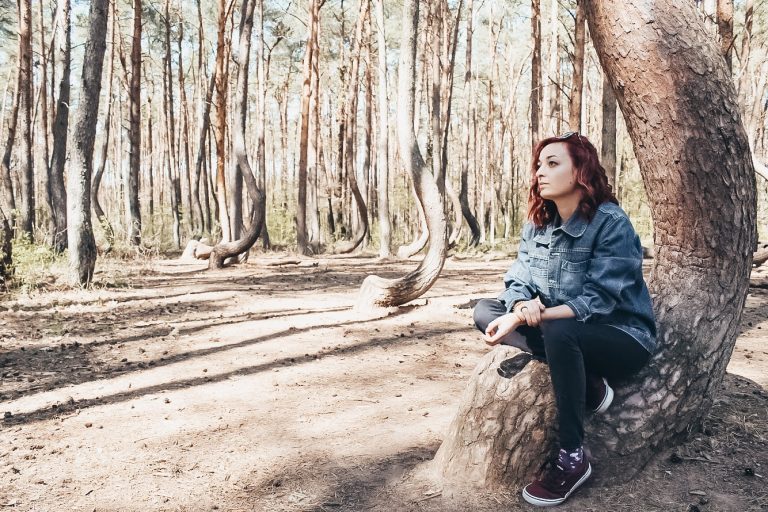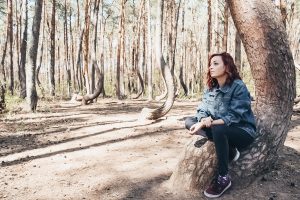 In April, when we were in Crooked Forest, the nature was not so green yet, it is perhaps why everything around  was so obvious. I don't know why many of these trees have disappeared, but the part with the crooked pines is very small. If you are going to a Crooked forest, visit also other places during this trip to avoid disappointment. 🙂

And if you will walk really quiet maybe you will see some goblins running around….. 🙂
Tina Twovelers
If you like this article, feel free to share it in Pinterest too. ❤