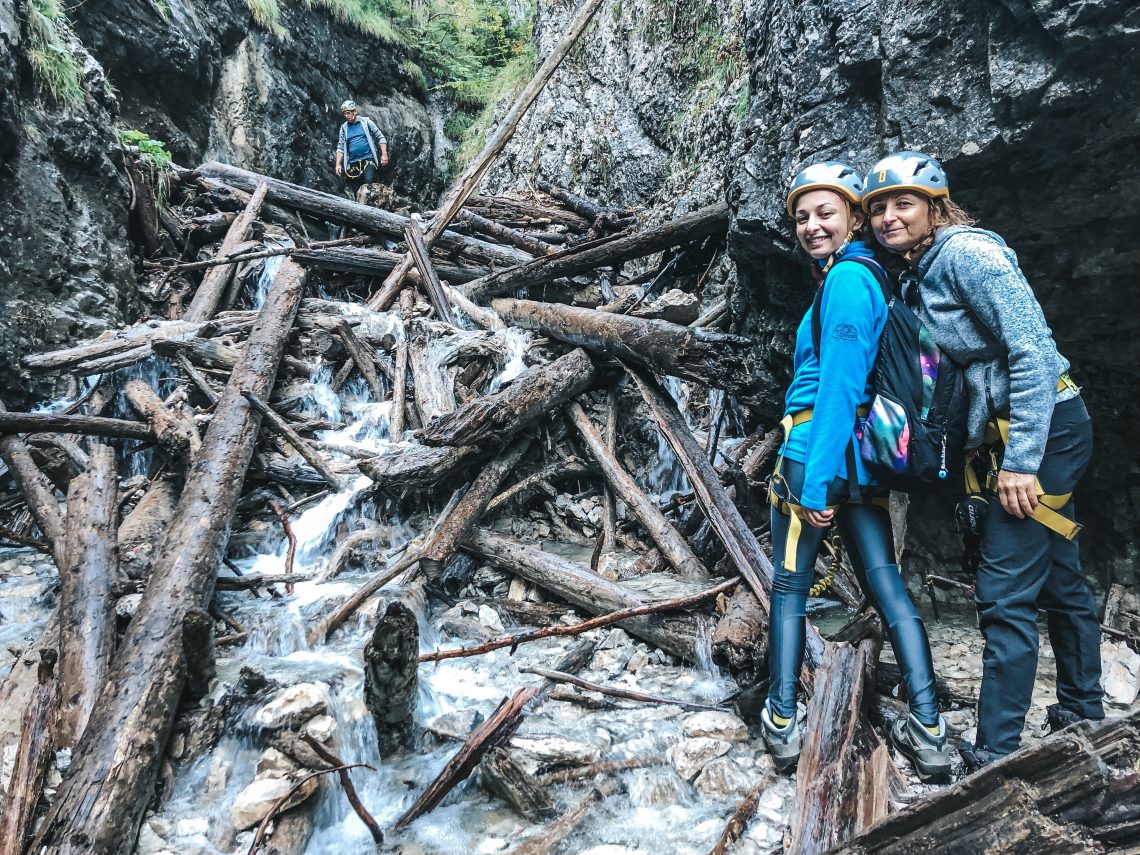 Via ferrata in Slovak Paradise. Adventure you will never forget.
I put my foot slowly on a piece of iron that is in a rock and I hold onto a metal rope with my hand. I know I'm locked in with two rigid carabiners, but even the loud waterfall failed to drown out my thoughts on what would happen if I fell. A little in front of me awaits my dad one and behind my back I am encouraged by Matej and my mother. I will climb to the next step, which is also the last one on this rock and realize that, despite fear of heights, I enjoy this adventure in the Slovak mountains.
Adrenaline called via ferrata
What does via ferrata mean? It is a protected road in difficult mountain terrain. Secured means that there are iron steps, fixed ropes, or ladders on this route to help you cross difficult terrain, even though you have never climbed a climbing route.
If you do not know whether you dare to such a climb, then via ferratas are divided into different degrees of difficulty. This is done using the Schall scale, where difficulty is indicated by the letters A (easy), B (medium), C (complicated), D (difficult), E (extremely difficult).
But even if you are assisted by footrests and ropes on your way through the via ferrata, you will not pass the via ferrata in flip flops. You need equipment to help you with safety.
Via ferrata equipment
As you climb the  via ferrata, a gear is rented to help you physically pass the via ferrata safely. So this equipment also helped me mentally, because I'm afraid of heights, helped me to calm down at the highest points, because I knew that nothing would happen to me.
The base is a helmet, because there are many rocks around you. It is very easy to see where you put your foot and at the same time bang your head on the protruding rock.
Other helpers are a harness and a ferrata set with a shock absorber. The via ferrata set has two ropes that end with carabiners. You can hook these carabiners onto metal belay ropes that run along the steps in the rocks.
Being afraid of heights, the equipment helped me calm down at the highest points that nothing would happen to me.
This equipment will be borrowed for a fee on entering the via ferrata, but you must bring the other part of your gear. Solid hiking shoes are a very important companion when climbing. I also recommend long pants, because it is very easy to scrub your legs off the rock. Also, the rocks in the forest are not exactly the hottest, and shaking on the rocks because you are cold will not help you very much during ascent. We said after the climb that we would also use gloves, because you are constantly holding the wet metal  rope.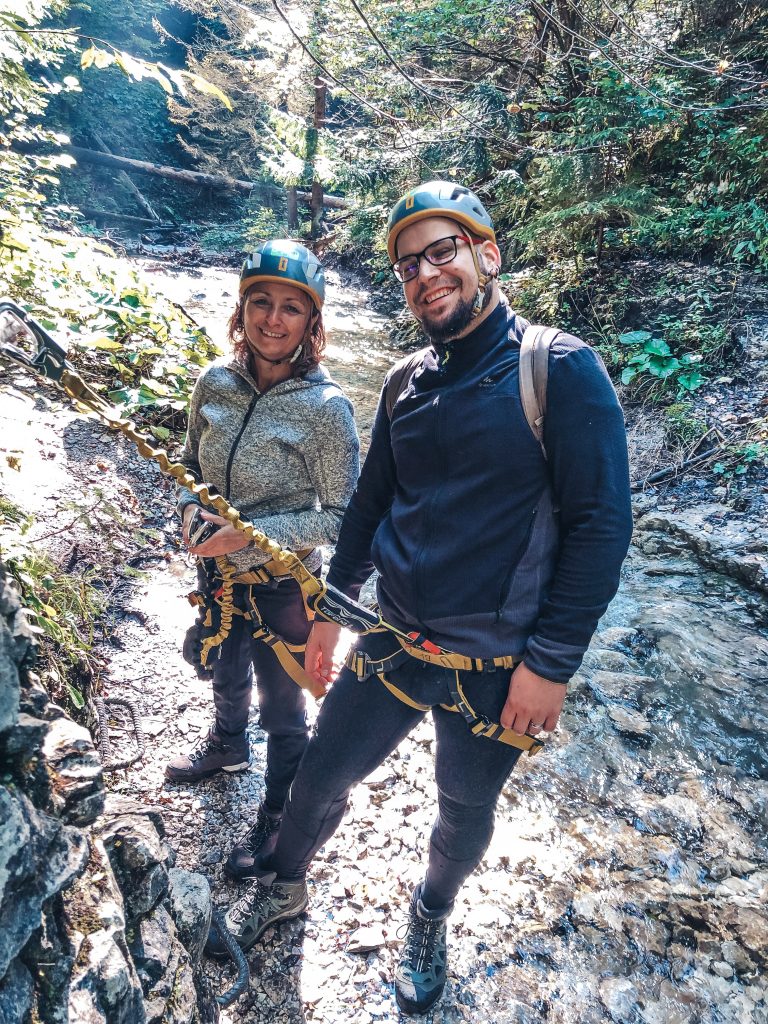 I hook one carabiner on a metal rope, which I hold with one hand. I feel my knees tremble because I let my fear go further than I wanted. I take a deep breath and hook the second rope. I have a long way to go around the damp rock. This rope safety helps me more than I thought. I can still hear the snap of the metal carabiner on the metal rope that I hold, and that somehow calms me down. Two strong metals…
Via ferrata in Slovak Paradise
Since 2016, a via ferrata Kyseľ has been accessible in the Slovak Paradise National Park. You can visit it from 15 June to 31 October, the rest of the year is closed. This via ferrata Kyseľ in Slovak Paradise belongs to the group C in difficulty.
Remember that the via ferrata route goes one direction, you can only go up, so you can't change your mind in halfway.
Beginning of the tour on via ferrata Kyseľ we started in the parking lot Čingov, where we also borrowed equipment. Entrance to the national park is 5 € and for equipment rental fee you will pay 10 €. You can borrow it from 8:00 am and must return it by 6:00 pm at the latest.
You do not have to wear the borrowed equipment immediately, because part of the via ferrata nature trail does not start in Čingov. You will have to walk through the forest for about one hour until you reach the footrest section ( Kyseľ, ústie nad Kyseľom). In the first hour you will have to cross a few wooden ladders over the brook, it is such a warm up until a real adventure comes. ?
Between climbing rocks and ladders I jump like a roe deer. The water in the stream is quite high, so we have to look for the most convenient and at the same time the driest path. I jump from stone to stone, walk on fallen stumps and hope not to drop into cold water.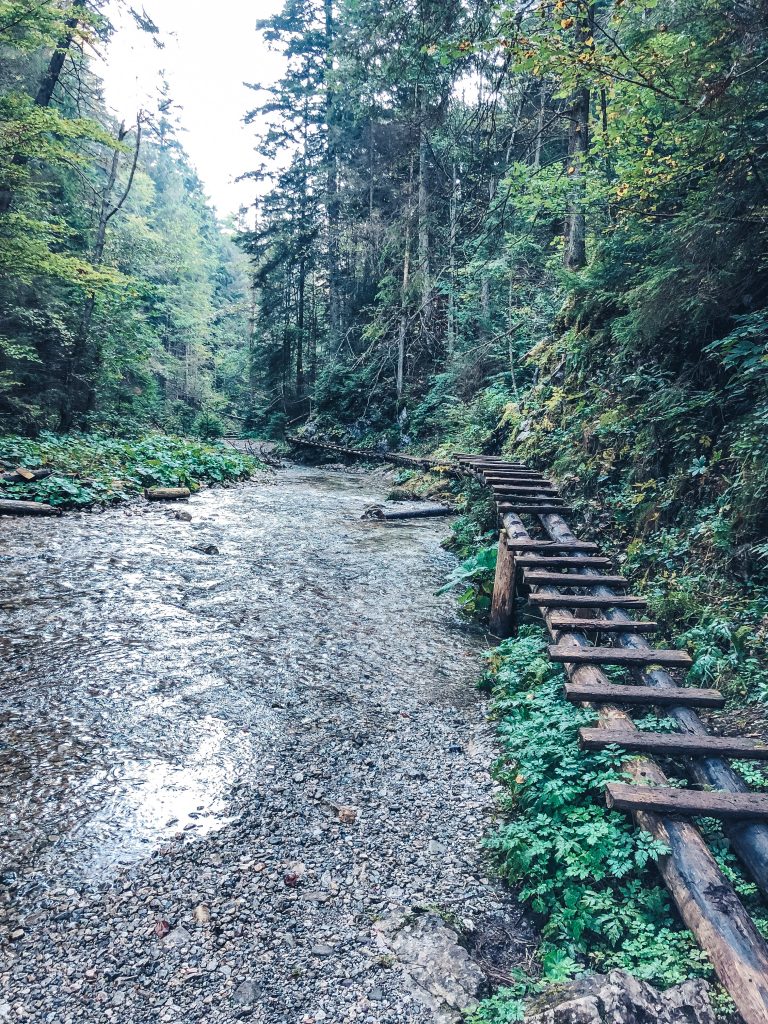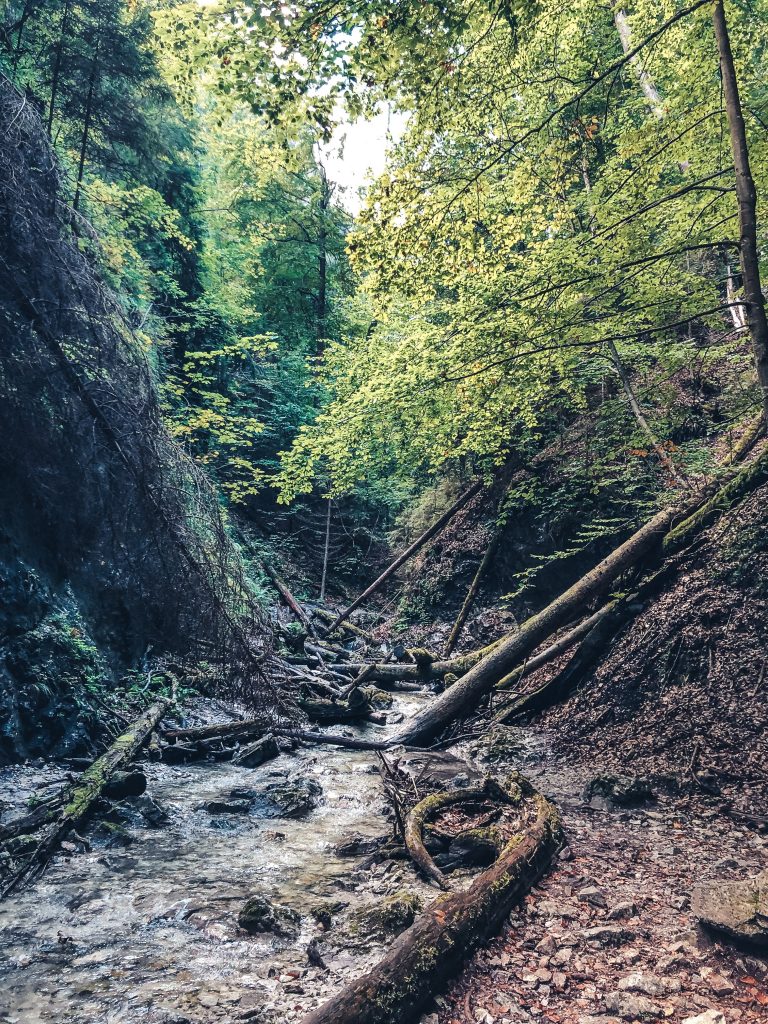 We went on hiking early in the morning, because we wanted to avoid having to go too fast or too slow, because of the many people there. We got up early enough and by 8:00 we were ready to go.
Our hiking was planned for the whole day, because we wanted to see the Tomášovský výhľad (Tomášovský view)  in addition to the via ferrata. Our route was:
Čingov-Ďurkovec – Čingov, centrum – Biely potok, ústie – Kyseľ, ústie – Nad Kyseľom – Kláštorisko – Kláštorská roklina, ústie – Letanovský mlyn – Tomášovský výhľad – Čingov-Ďurkovec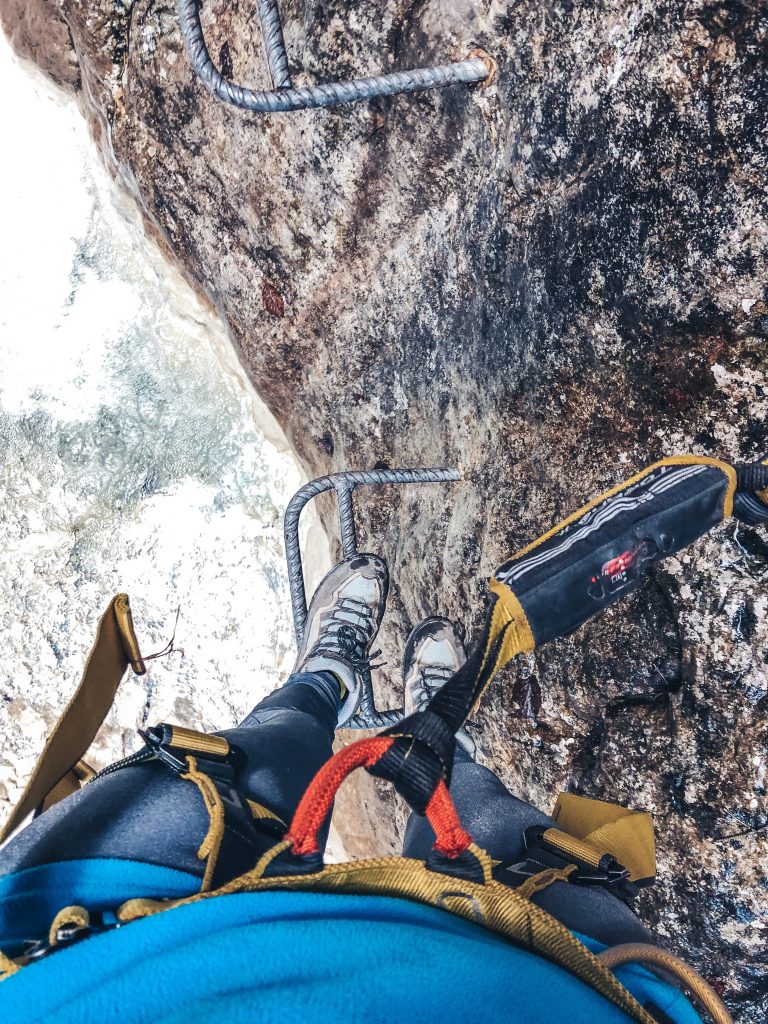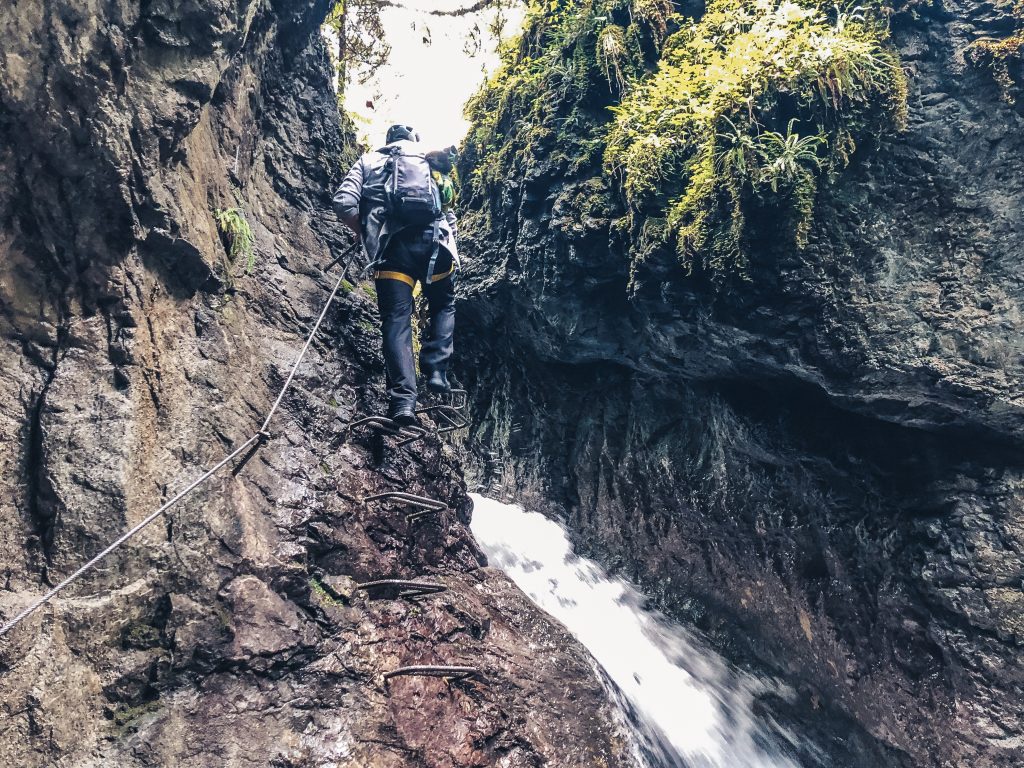 During the whole climb to Kláštorisko we were looking forward to cold tap Kofola and good lunch. This was all the more disappointing when we found the restaurant closed and there was an overpriced kiosk. We were very surprised and disappointed, not only the restaurant, but also dilapidated cottages in the area. Now that we live in Poland we travel quite a lot in the mountains and the surrounding area and we can feel the difference in services in Slovakia and abroad which makes us very upset. But this was the only negative side of our entire hike.
---
Read also other articles from our trips to nature:
---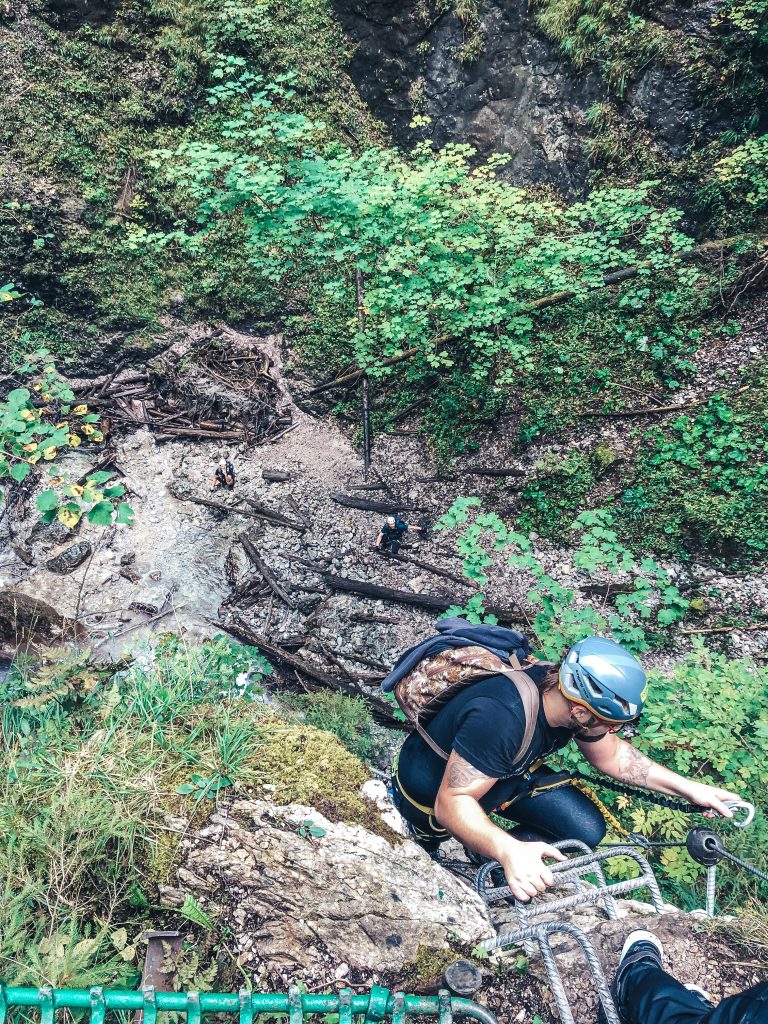 Our last stop was Tomášovský view, which really warms up at the heart.
In the middle of the climb, I was grateful for strengthening my hands in the gym and I thought I was quite tired. But when we finished and stripped the gear I was sorry. I would like to continue…
Let me tell you honestly, it was quite a long hike and at the end our feet really hurt. We returned the equipment just before the office closed and immediately sat down in the nearest restaurant where we ate, a real Slovak traditional meal.
Accommodation
Many of the locals in the surrounding villages rent accommodation. Sometimes it's just one room, or even the whole part of the house, where the whole family or group of friends can fit. Finding such accommodation is not at all difficult and at the same time you support people who live there and they can recommend many things, that are not mentioned on the Internet. ?I recommend to look for accommodation on Booking.com or Megaubytovanie.sk websites.

Ferrata Kyseľ in Slovak Paradise was a real adventure for me. Thanks to the support of my loved ones, I overcome the fear of heights while spending good time together. Such an adventure is in my opinion a great team building activity in nature. And now I look forward to next year when we try other via ferratas in Slovakia.
Tina
If you liked the article, I would be really happy, if you will share it on Pinterest. ?