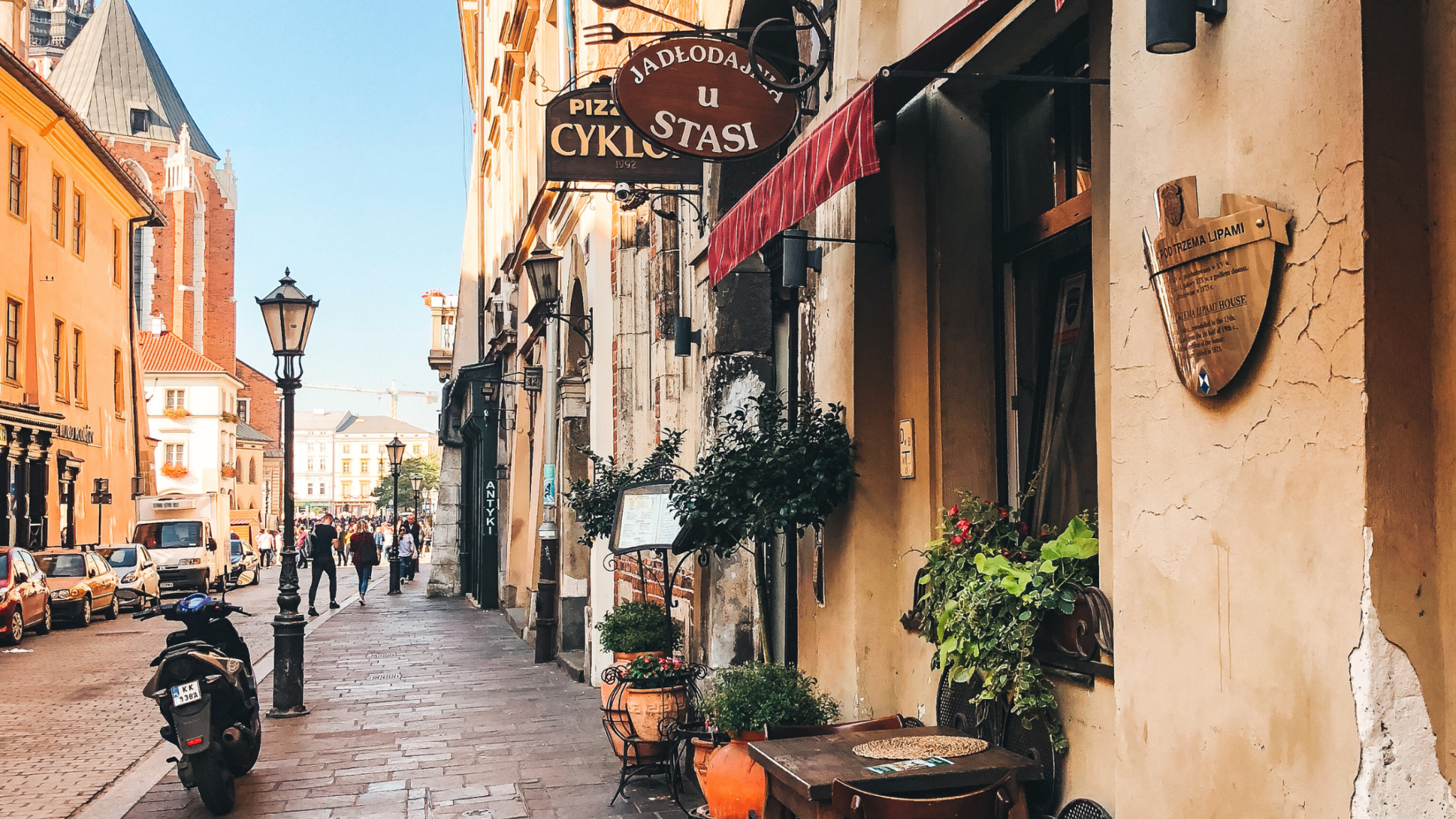 Ultimate Krakow Guide: 35 things what to do in Krakow
Krakow, the cultural capital of Poland, is one of the most beautiful and lively cities in Europe. With its charming Old Town, fascinating history and friendly people, there is always something to see and do in Krakow. We lived in Krakow for three years and this city grew close to our hearts, it is our second home.
If you are planning a trip to this wonderful city, in this article you will find everything you need to know before your trip to Krakow.
How to travel to Krakow
Krakow is an ideal weekend trip by car from Slovakia. It is not only a destination to visit some of the most beautiful Christmas markets in the world, but there is also a lot to see in the summer.
You can travel to Krakow comfortably by car, but also by train, bus or plane. We often traveled up and down between Krakow and Slovakia, and Flixbus is the best price and time solution. But you can also get to Krakow by train (the most frequent transfer is via the Czech Republic). The journey by car takes about 5 hours and you don't even need a Polish highway stamp.
Where to stay in Krakow
You can find nice accommodation in hotels, hostels or rooms in the city centre and in the surrounding area. I recommend searching for hotels on Booking.com and apartments or rooms on Airbnb. If I had to choose where to stay in Krakow, it would definitely be the historic district of Kazimierz, where there are also many restaurants, cafes and bars.
Take a look on accommodation in Kazimierz:
How to move around the city
As in any major city, you can move around the city in several ways.
Take a walk
Krakow is a beautiful city with many historical buildings, monuments and attractions in close proximity. Walking is a great way to explore a city and soak up its atmosphere. You will discover beautiful streets, small romantic businesses or interesting buildings. Most of the attractions in the city centre are easily accessible on foot.
Public transport
Krakow has an extensive public transport network, including buses and trams. You can buy tickets at most kiosks or machines at bus and tram stops. Tickets are valid for a certain time depending on the type of ticket purchased. You can also pay by card in most machines.
I recommend the Jakdojade app for public transport schedules. You can find all connections and stops there.
Taxi
Taxis are widely available in Krakow and relatively cheap compared to other European cities. We most often used Uber or Bolt, because you can set the exact location in the application and you don't have to call anywhere or look for a taxi in the city.
---
Read more travel guides from Poland.
---
Rent a bike or scooter
Renting bicycles or scooters is becoming increasingly popular in Krakow and is a great way to explore the city at your own pace. There are many bicycle rental stations in the city, all you need is a mobile phone and an app.
There are cycle routes throughout the city, which you can use to safely travel around Krakow. I used such a rented bicycle to go to work or shopping in the morning. You get on at one station and put your bike down at the other. It's even easier with scooters, just find the nearest one in the app and you can leave it almost anywhere. You can try the Lime app, for example.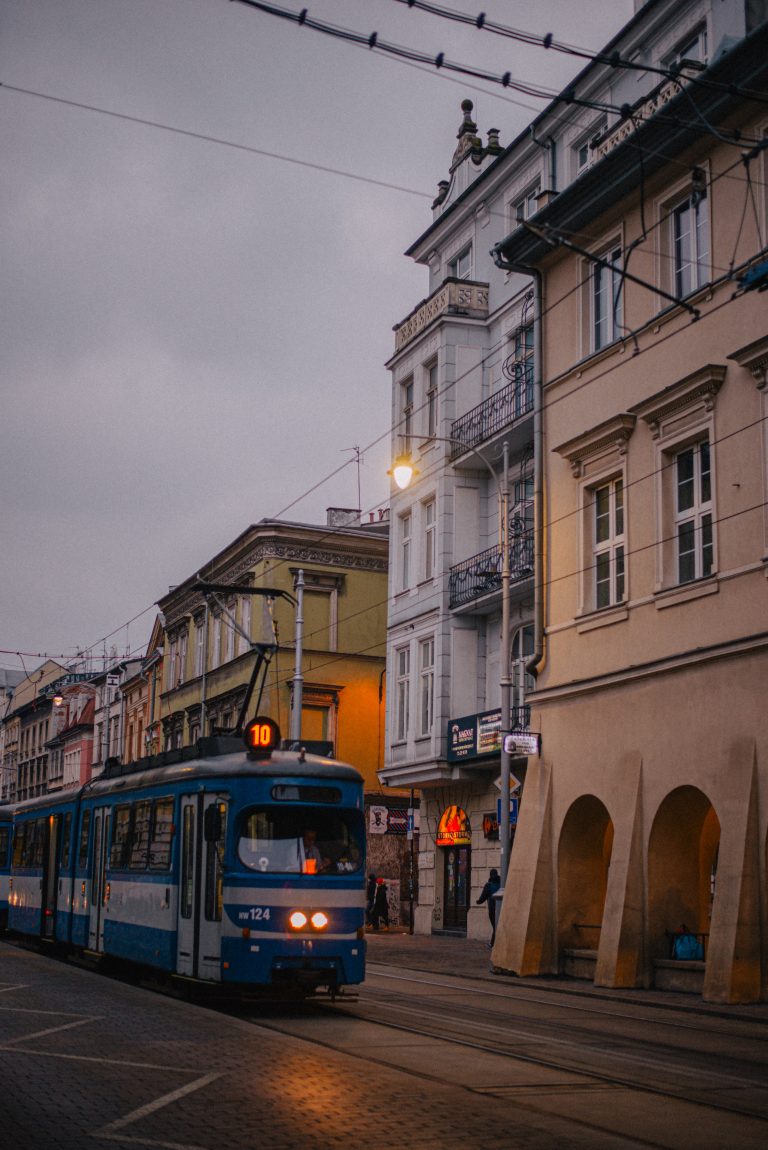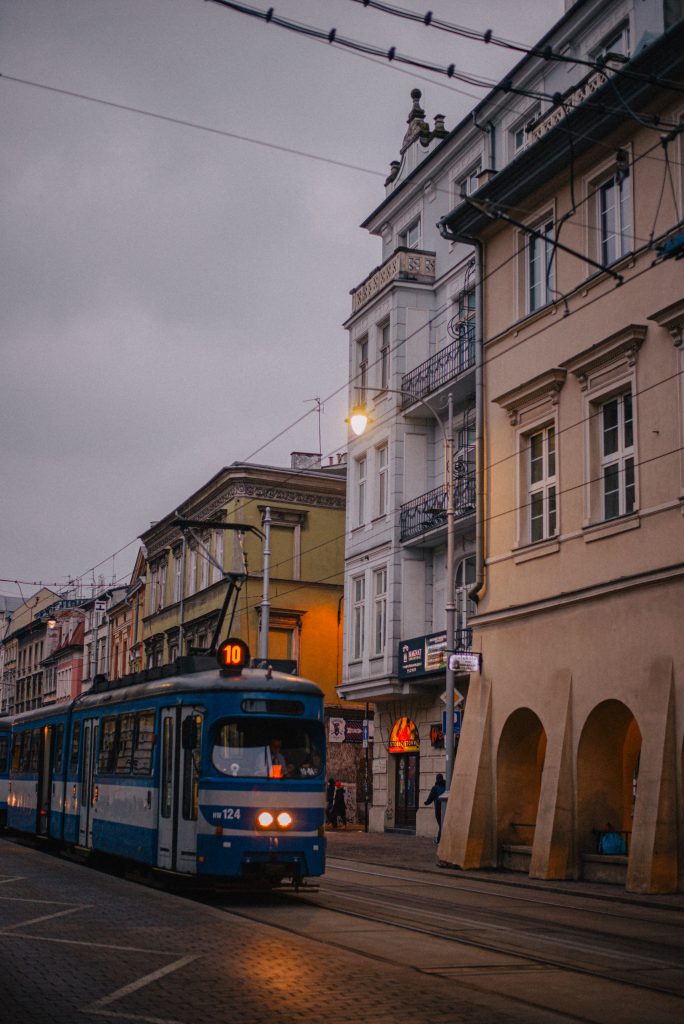 Private tours
If you want to explore Krakow with a guide, you can find them at every turn in Krakow. Just enter the city centre and you will be offered guides on small carts who will take you to the most beautiful sights of the city.
What food to try in Krakow
Krakow is a great place to discover new tastes. The city offers a diverse culinary scene, from traditional Polish cuisine to international cuisine, and has plenty of options to suit all tastes and budgets.
Here are some of the best Polish dishes in Krakow:
Pierogi
Similar to Slovak dumplings, they come in different fillings such as meat, cheese, potatoes and cabbage. You can find them in most Polish restaurants.
Bigos and Zurek
Bigos is a hearty, traditional Polish stew made from sauerkraut, meat and various spices. Zurek is a sour rye soup usually served in a bread bowl. It is a delicious and filling meal. Both are ideal food for cold winter days.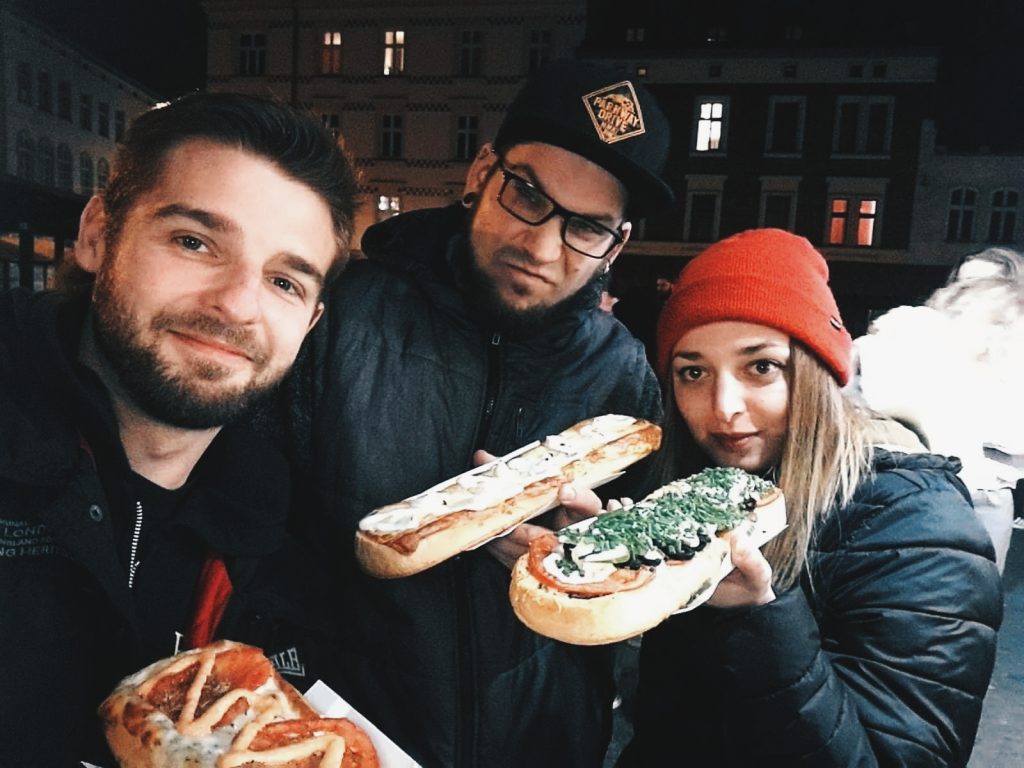 Zapiekanka
It's a popular street food that's similar to pizza, but instead of pizza dough, it's made with a baguette. It is usually served with mushrooms, cheese and other toppings. We dream about a casserole quite often, and the best one is in the very heart of the historic district of Kazimierz. Endzior is strategically located among the bars in the city and in small windows they sell the best zapiekanki. Just choose the best combination of flavours.
Krakowskie pączki
Every February, Poland lives on donuts – the Tlusty Czwartek holiday is the day when 10 million donuts are eaten in Poland. And that's also why you'll find some of the best donuts in Krakow. Be sure to visit one of the best donut shops in Krakow – Stara Pączkarnia or Gorące Pączki.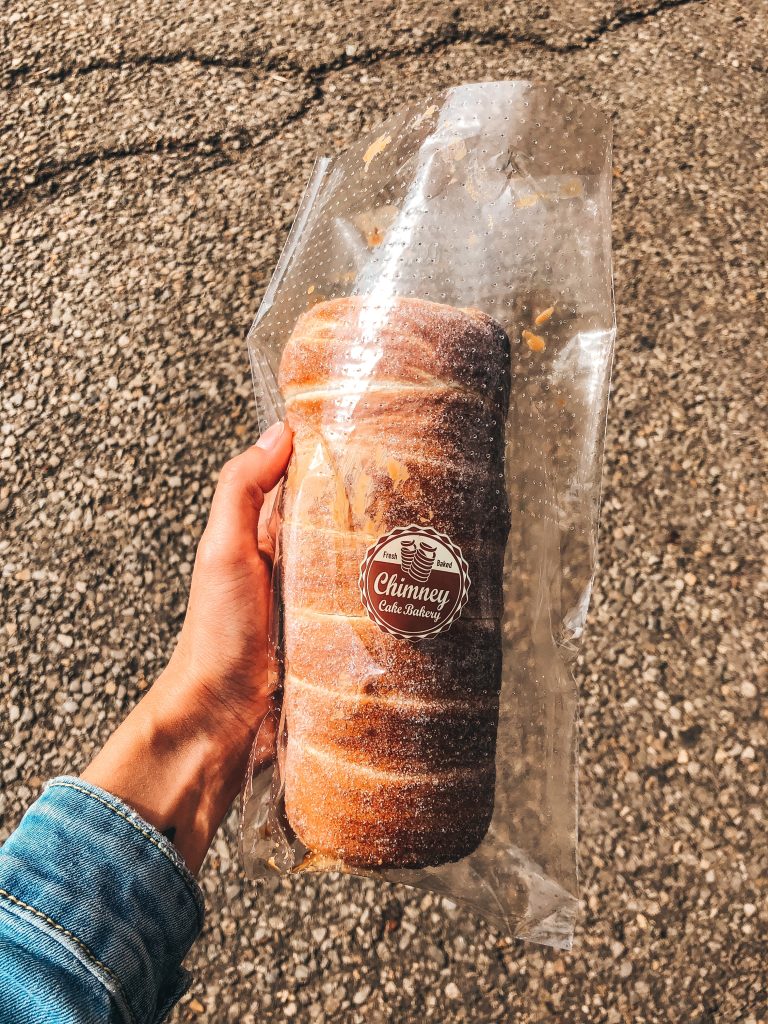 Ice cream
Poles love ice cream. They can stand in long lines for good ice cream in winter and summer. That is also why you will find many excellent ice cream shops in Krakow. If you like ice cream, be sure not to miss some of these places:
Good Lood – The ice cream parlor offers homemade ice cream with a wide range of flavors. Their ice cream is made from natural ingredients and they also offer vegan and lactose-free options.
Lodziarnia Starowka – Located in the heart of the Old Town, this ice cream parlor offers a wide selection of ice cream flavors, from classic vanilla to more unique ones like gingerbread or lavender.
La Rotisserie – This French-style bakery and ice cream shop offers artisanal ice cream made with high-quality ingredients. Their ice cream flavors include pistachio, hazelnut and strawberry, among others.
Krowarzywa – This vegan burger restaurant also offers vegan coconut milk ice cream. Their ice cream flavors include chocolate, vanilla and raspberry.
Limoncello – This Italian-style gelateria offers delicious gelato in a variety of flavors, including chocolate, hazelnut and pistachio.
Craft beers
Just as you can find excellent wine in Moravia, you can also find excellent craft beer in Krakow. Forget Zywiec, Lech and Tyskie. Throughout the city you will find many breweries offering craft beers of various tastes, quality and strength. Make sure to visit one of our favourite breweries:
Omerta Pub: This cozy pub is known for its excellent selection of craft beers from local breweries, as well as some international options. It is located in the heart of the old town and has a relaxed atmosphere.
House of Beer: With over 200 different types of draft and bottled beer, House of Beer is a great place to try a variety of craft beers. They also offer beer tastings and have experienced staff to help you choose your beer.
Strefa Piwa: This craft beer bar has a rotating selection of beers from small Polish breweries, as well as a few international options.
C.K. Browar: This brewery and restaurant in the center of Krakow is a great place to try local craft beers. They offer a variety of beers and cook traditional Polish dishes.
Weźże Krafta: With an ever-changing selection of craft beers on tap and in bottles at Weźże Krafta, you'll find great beer and atmosphere.
Where to eat in Krakow
Krakow is a city famous for its rich history, vibrant culture and delicious cuisine. The city has a thriving culinary scene that combines traditional Polish flavours with modern influences. As you explore the city, you'll find a variety of dining options, from cozy cafes and street food stalls to upscale restaurants and trendy bars.
To help you navigate this culinary landscape, we've put together a Krakow food guide. This guide will introduce you to some of our favourite restaurants in the city. Whether you're a foodie looking to explore the latest gastronomic trends or simply want to savour the flavours of Krakow, this guide has something for everyone.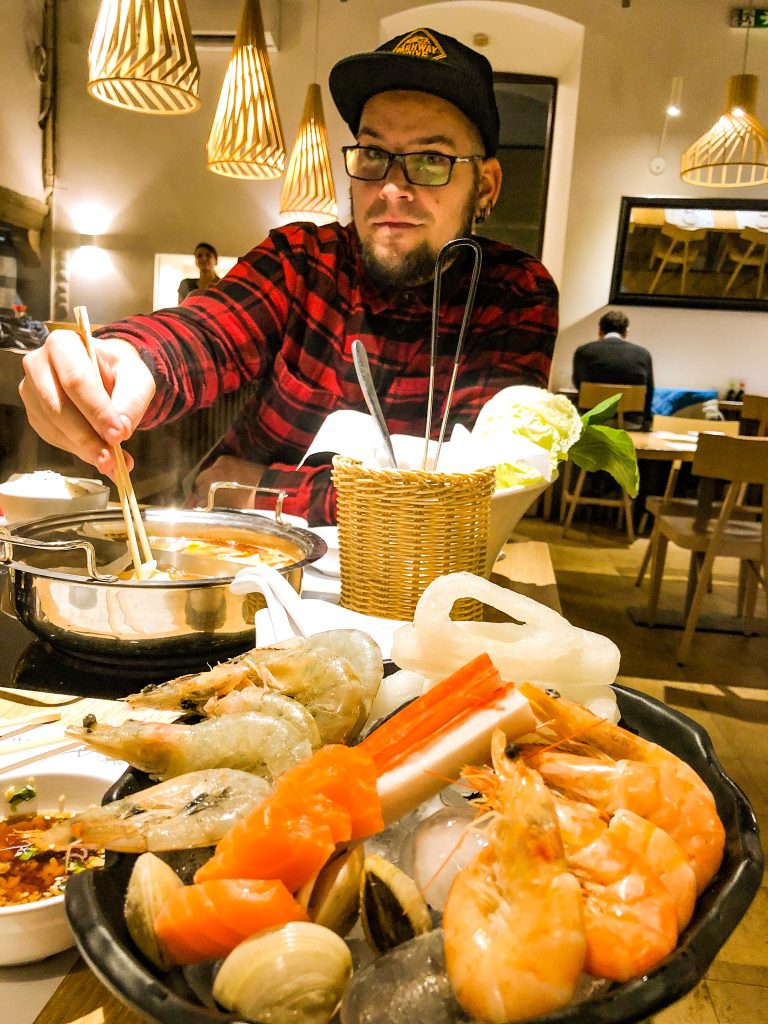 What to do in Krakow
Krakow is a beautiful city and we fell in love with it not only because of the good food, rich history and amazing architecture. We were in the city as tourists, locals, but also as guides for our family and friends. And that's why we've listed some of the best things to see and do in Krakow.
The main square – Rynek Glowny
The Main Square is the heart of Krakow's Old Town and is one of the largest medieval town squares in Europe. It is surrounded by historical buildings, cafes and restaurants. In winter, Christmas market is held here, and during the year you can visit the year-round Sukiennice market in the center of the square.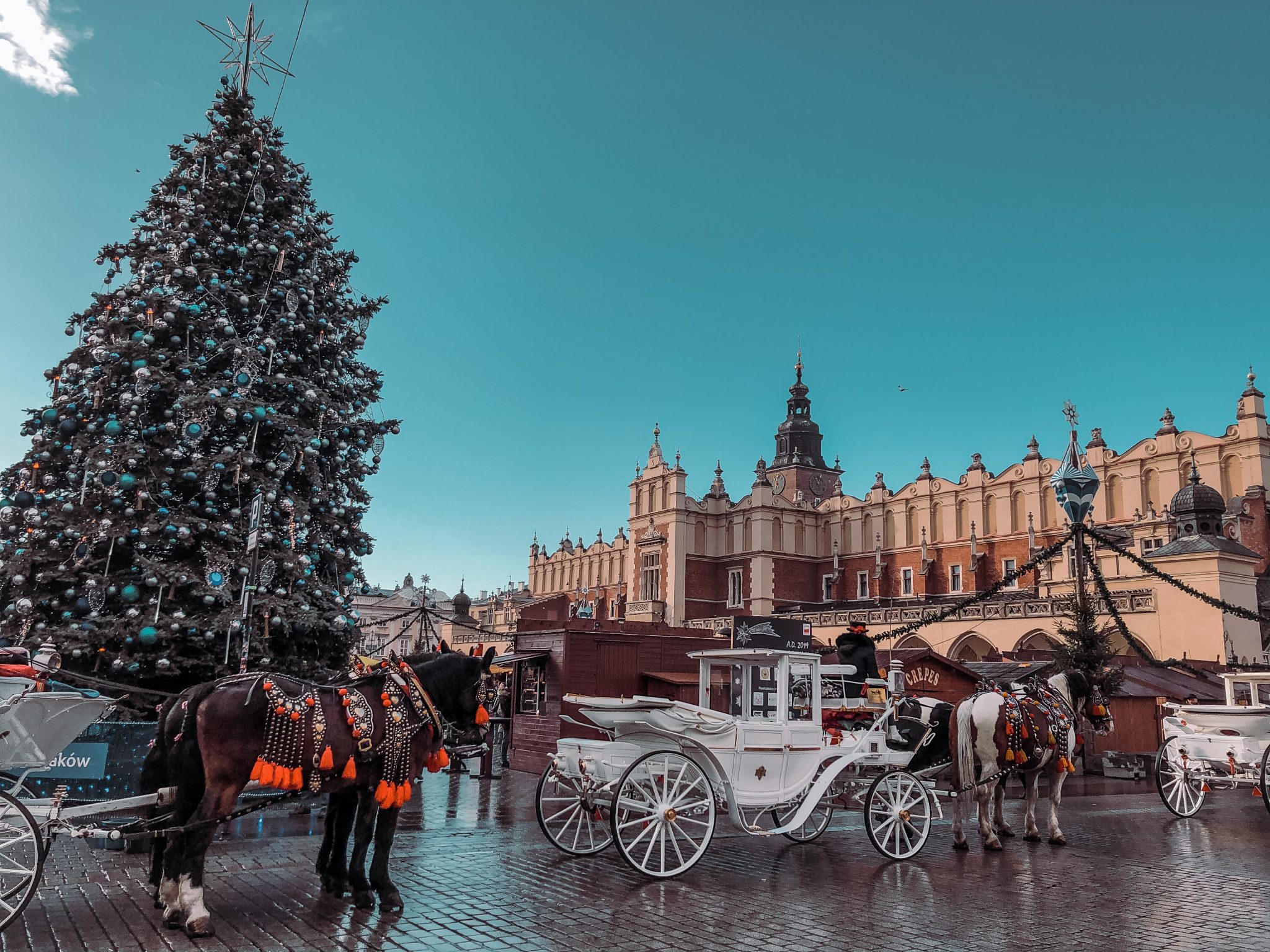 Our tip: If you want to have a view of the city from the mountain, try the cafe on the roof of the music school Metrum Retrobistro.

Ul. Sw. Tomasza 43, Krakow
At Rynek Glowny Square, don't forget to wait for the trumpeter who plays the trumpet every hour in the window of the Mariacki Basilica. The church is beautiful inside and out. Unfortunately, you will often find a long line of people waiting to see inside.
Another of the monuments on the main square is Eros Bendato. The statue referred to as "The Head" – has become a popular tourist spot. Visitors come to admire the interesting work of the artist Mitoraj, which depicts Eros, the Greek god of love and desire, with his head resting horizontally on the ground.
If you are interested in museums on the main square in Krakow, you will find one immediately underground – Rynek Podziemny. Don't miss the museums and galleries in Krakow if you have at least a little time to spare. Most, including this underground one, are interactive, modern and interesting.
From Rynek Glowny, walk through the streets of the city up to Wawel Castle.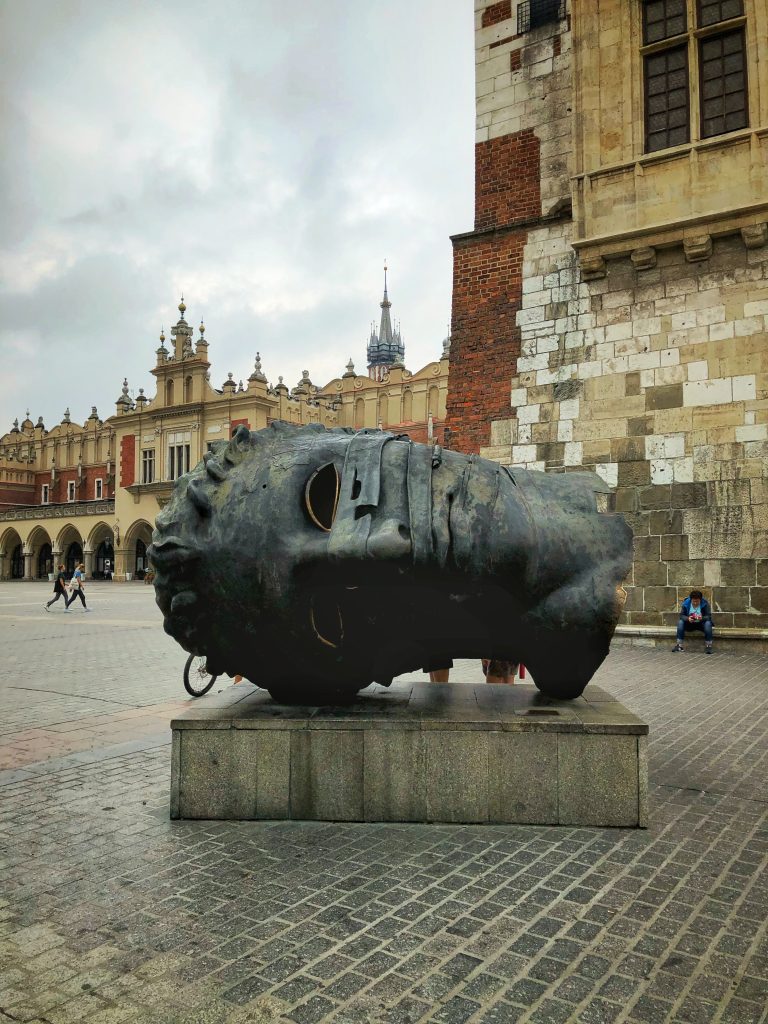 Wavel castle
Wawel Castle is located on a hill overlooking Krakow and is one of the city's most famous landmarks. It dates back to the 14th century and was the seat of Polish kings for centuries. The rock itself, on which Wawel is located, is estimated by scientists to be 150 million years old. From the courtyard there is a beautiful view of the Vistula River and its surroundings.
If walking around the castle courtyard is not enough for you, you can also look into the official rooms that were used to receive important visitors or into the private royal apartments and the jewelry and armory.
But one of the most popular attractions of Wawel Castle is located below the castle. You will find a fire-breathing dragon here.
Why a dragon?
According to legend, there used to be a dangerous dragon in the rock on the hill, which began to terrorize the inhabitants of the city. They had to give him part of the crops and livestock every week, and in return he did not attack them. If they didn't have enough food, they had to sacrifice a couple of virgins, which he then ate.
However, King Krak wanted to end this suffering and asked his sons to trick the dragon somehow and drive him away, or kill him. They agreed to fill one of his cowhides with sulfur. When it was thrown to him, he thought it was meat and swallowed it at once.
Sulfur ate his whole insides and the dragon was defeated. However, one of the brothers was greedy and his sibling Krak II. murdered, claimed victory over the dragon. His deception was later discovered and the city was named Krakow in honour of his dead brother.
Kazimierz
This historic Jewish quarter is now a popular tourist area of Krakow with plenty of cafes, bars and restaurants. It is also home to several synagogues and Jewish cemeteries that are worth exploring. You can reach this part of the city by going from Wawel Castle around the dragon, still along the river. It is a very nice walk or bike ride.
What to see in Kazimierz:
Wander through the alleys
Kazimierz is a beautiful neighbourhood that you can explore on foot. Stroll the winding streets and take in the sights and sounds of the vibrant community. There are many local shops, businesses and historic buildings. My favourite neighbourhood for a Sunday walk or nightlife.
Old Synagogue
It is one of the oldest synagogues in Poland and is located in the heart of Kazimierz. Today, the building houses the Jewish Museum, which shows the life of Jews in Poland.
Remuh Synagogue
This is an active synagogue and is one of the most beautiful in Kazimierz. It is also the final resting place of Rabbi Moses Isserles, an eminent Jewish scholar.
Jewish cemetery
This cemetery is one of the oldest Jewish cemeteries in Poland and you should definitely not miss it if you are interested in more Jewish history.
Plac Nowy
This square is a popular spot for locals and visitors alike. It is known for its lively atmosphere and famous food stalls serving traditional Polish dishes such as pierogi and kielbasa. You can also find the best baked goods here. 🙂
Go on a street-art tour
Kazimierz is known for its vibrant street art scene, and there are several tours that offer guided street art tours of the neighbourhood. Even if you are not a big fan of this art, at least check out the street art on Plac Bawół 3.
Try some traditional Jewish food
Kazimierz is home to several restaurants that serve traditional Jewish dishes such as matzo soup, gefilte fish and challah bread. The most popular restaurants can be found on Szeroka Street, where you will feel as if you have traveled back in time.
Enjoy the night life
Kazimierz is known for its lively nightlife, with plenty of bars and clubs to suit different tastes and preferences. If you want to go out in the evening in Krakow, definitely go to Kazimierz. Overall, Kazimierz is a beautiful and historic neighbourhood with a rich Jewish heritage and is definitely worth a visit for anyone interested in history and culture.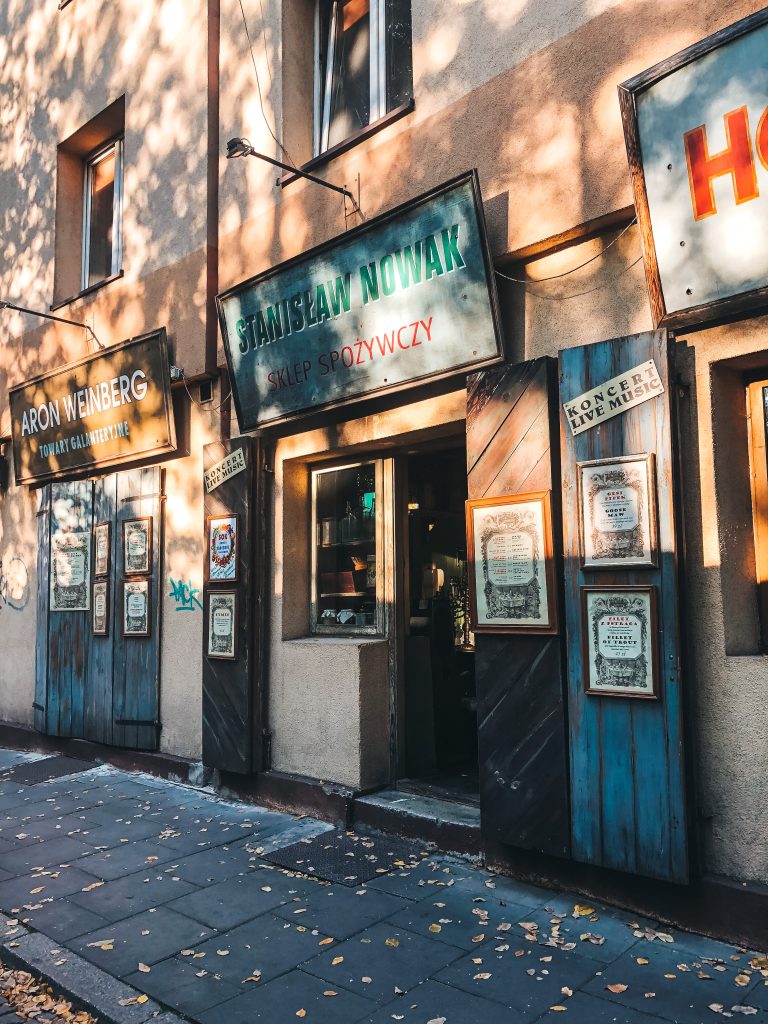 Podgórze
From the Jewish quarter of Kazimierz, go to the Podgórze district. It is a part of the city that is separated by the Vistula River and the most popular pedestrian crossing is the Kładka Ojca Bernatka. A modern bridge for pedestrians decorated with sculptures of acrobats by the artist Jerzy Kędzior.
From there, head to one of the most photogenic churches in Krakow – Kościół św. Józefa. Behind the church, you can relax in the park Bednarskiego w Krakowie, where you can observe the fearless squirrels running around the park.
If you are looking for an interesting place to take photos, try Kolorowe schody, which is located in a hidden Tatrzańska alley near Kościół św. Józefa.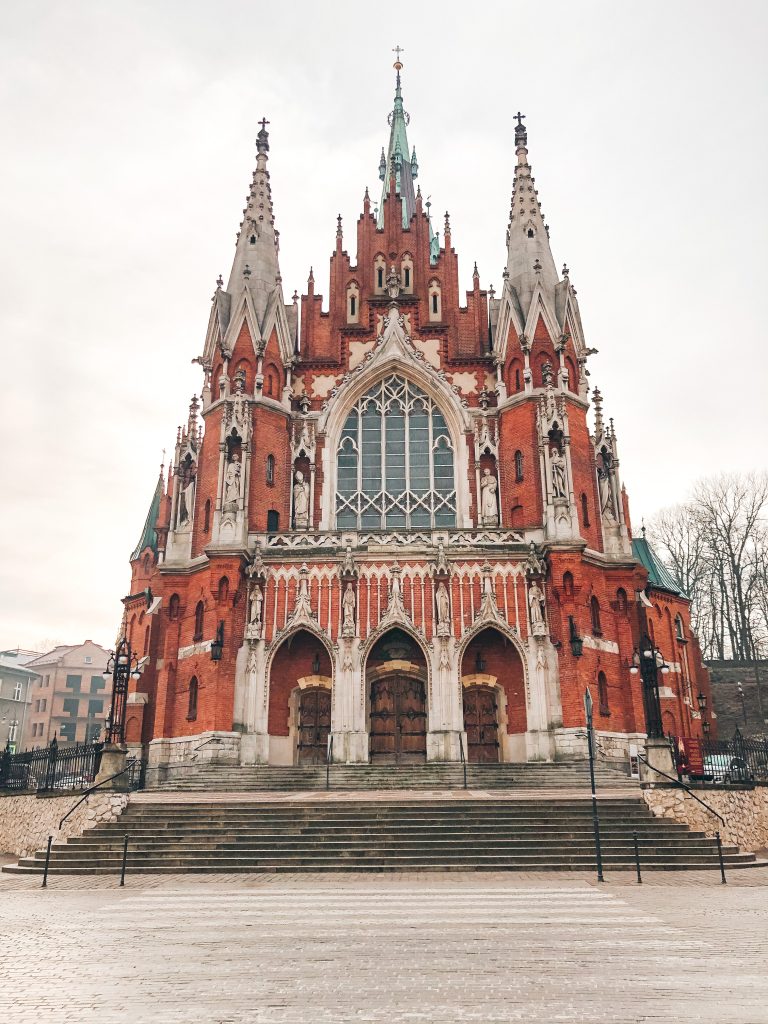 Visit the Schindler Factory Museum: This museum is located near the park and is definitely worth a visit. It tells the story of Oskar Schindler and his efforts to save the lives of Jewish workers during World War II. If you are going to visit the Auschwitz concentration camp, I do not recommend visiting Schindler's factory either, it would be too much misery for one weekend.
Schindler's Factory is a very interesting museum, but book your tickets well in advance as it tends to sell out.
On your way to Schindler's factory, don't miss a visit to my favourite caffee.
Take a break at Handelek bakery – my favorite place for breakfast, coffee, brunch. I love their concept of simplicity, local ingredients and tradition. If you taste some pastries from Handelka, you won't want to leave. You can find them at Slusarska Street 9.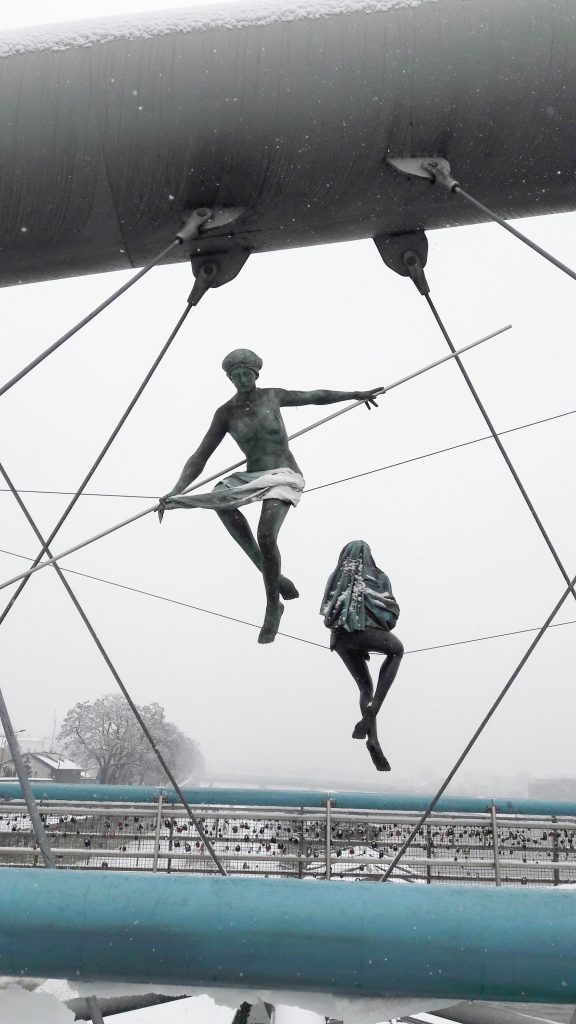 And now we get to the part that is not visited by so many tourists. If you are up to your neck in crowds, hop on the tram and let yourself be taken to the Podgórze SKA stop.
From here you can reach one of the mysterious Kraków hills – Kopiec Kraka. Legend has it that the mound is the final resting place of King Kraków – the founder of Krakow. Everything you need to know about the Krakow Mound can be found in this article.
If you are interested in dark tourism and are not afraid, you can also try urbex in Krakow. The old, abandoned Plaszow labor camp, where the film Schindler's List was filmed, is also located near the Krakow Mound.
Kopiec Kościuszki is another of such mounds like the Kraka Mound. Although it is on the other side of the city, it is a very nice walk through nature. You will have a view of the other side of Krakow, and on top you can enjoy a coffee in a cafe with a view. If you want to climb to the top of the hill, you have to pay an entrance fee.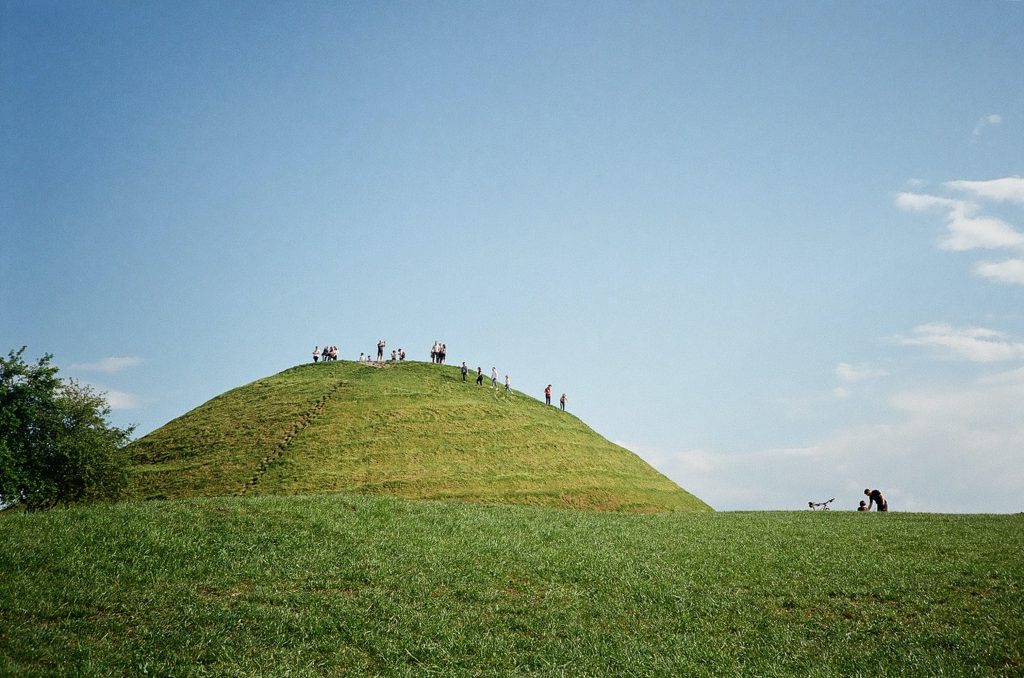 Unusual activities in Krakow to do
Krakow is a city rich in history and culture, offering visitors a wide range of attractions, from stunning architecture and historical monuments to excellent cafes and restaurants. However, if you are looking for something a little unusual, there are also unconventional places in Krakow that will take you off the beaten track.
Pijalnia wodky i piwa
Pijalnia wodky i piwa is a popular concept in Poland, which combines the two most popular alcoholic beverages in the country – vodka and beer. Literally translated, it means "place for drinking vodka and beer". One of the main attractions of the pub is its affordability. Drinks are served in small glasses or bottles, which means they are relatively cheap.
Another unique feature of the pub is the atmosphere. These places are often decorated in a traditional style with wooden furniture, dim lighting and sometimes live music. It creates a cozy atmosphere.
One of the most popular drinks in the pub is "strong" beer. This beer is stronger than regular beer, with an alcohol content of around 7-9%. It is usually served in small bottles or glasses and often with a shot of vodka. Another favorite in the pub is a shot of vodka. It is 0.2 ml of flavored vodka. The most common flavors are cherry, raspberry and lime, but you can also find, for example, monte. Pijalnia vodky i piwa is not just a place for drinking and eating, it is a cultural experience. If you ever visit Krakow, be sure to stop here.
Located in the heart of the city, the Krakow Pinball Museum is a nostalgic tribute to the golden age of pinball and arcade games, offering visitors the chance to play over 100 vintage pinball machines and classic arcade games. The owners have been collecting slot machines for over two decades. They have amassed an impressive collection of machines from the 1960s to the present, including rare and unique machines found nowhere else in the world.
Have a coffee in the company of bunnies or cats
If you don't want to just sit in a cafe without company, be sure to visit a cafe where you can drink coffee in the company of animals. The first cafe with bunnies in Europe – Bunny Café – was opened in Krakow. If you want to play with the bunnies in their enclosure, you pay an entrance fee of PLN 19.90. In addition to the fact that the cafe is special for its four-legged companions, its decor is also unusual – it is all pink.
Another cafe where you can enjoy the company of male companions is the cat cafe Kocia Kawiarnia – Kociarnia. If you're a cat lover, you'll definitely love it. The cafe bakes its own cookies, you drink a good klava here and there will be cats all around you.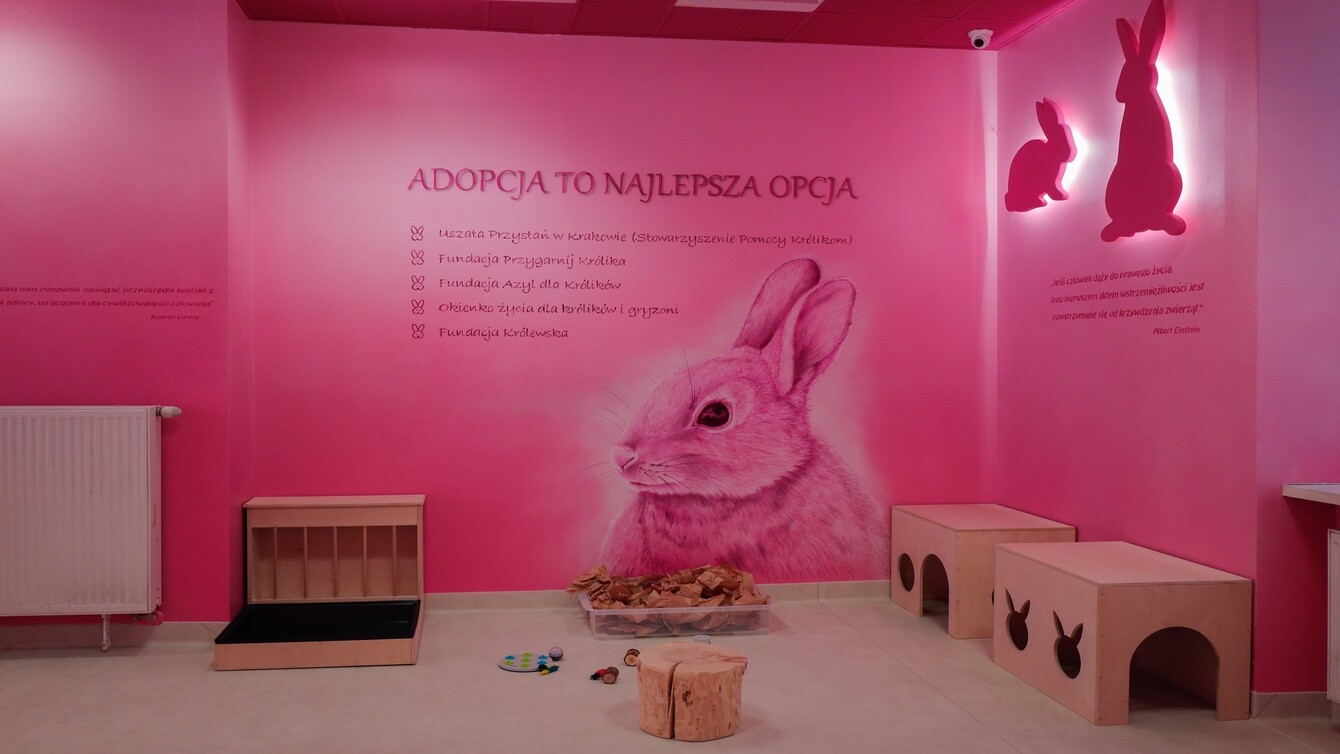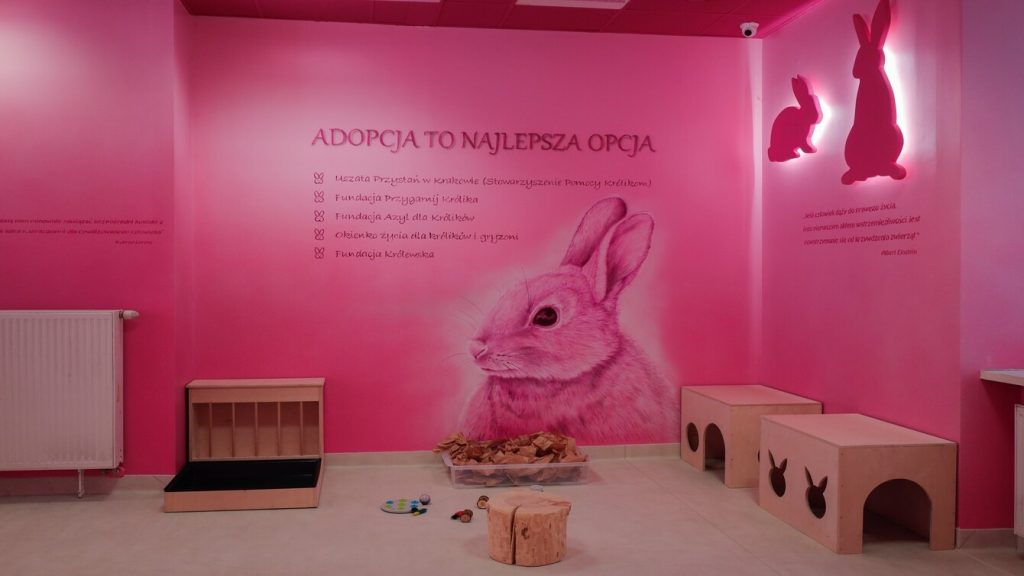 The Museum of Illusions in Krakow is the right stop for anyone interested in the fascinating world of optical illusions. The museum has more than 70 exhibits. From a room where visitors seem to change size, to an infinite room where mirrors create an infinite illusion of space.
Entrance fee for adults is PLN 55.
You can visit Krakow at any time of the year and there will always be something to do. You will surely enjoy yourself in this city and you will want to come back here. If you fell in love with this city as much as we did, discover other Polish cities with us, such as Poznań.
For more inspiration to travel take a look on another articles or follow me on instagram @tina_twovelers.